India's civil aviation regulator has barred 90 SpiceJet pilots from operating the Boeing 737 Max until they have been sufficiently re-trained.
In a media statement, the low-cost carrier says the move from India's Directorate General of Civil Aviation (DGCA) will not impact daily operations, and that the 90 affected pilots form a small fraction of the airline's 737 Max-trained pilots.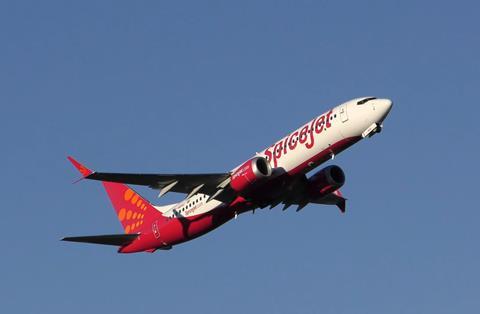 SpiceJet says the DGCA imposed the restrictions after it "had an observation on the training profile followed for 90 pilots". Indian media reports suggest the agency discovered training simulator flaws in a facility near Delhi.
"At the advice of DGCA, SpiceJet has restricted 90 pilots from operating [737 Max] aircraft, until these pilots undergo re-training to the satisfaction of DGCA," it states, but did not specify how long retraining would take.
SpiceJet adds that the affected pilots "continue to remain available for other Boeing 737 aircraft".
The carrier, India's sole 737 Max operator, has 11 examples in service. It adds that it requires around 144 pilots to operate the entire 737 Max fleet. There are about 650 SpiceJet pilots who are trained to fly the 737 Max.
India cleared the 737 Max to resume flying in August 2021, after grounding it for more than two years following two fatal crashes in 2018 and 2019.