A HSBC Global Research report has identified the "significant" opportunities for Indian carriers to grow internationally, but warns that the country's "inefficient" hubs are losing traffic to competitors in the Gulf region and Southeast Asia.
In its market report on India, HSBC notes that Indian international traffic is growing at a slower rate than domestic, and this is due mainly to Indian carriers' lower international presence.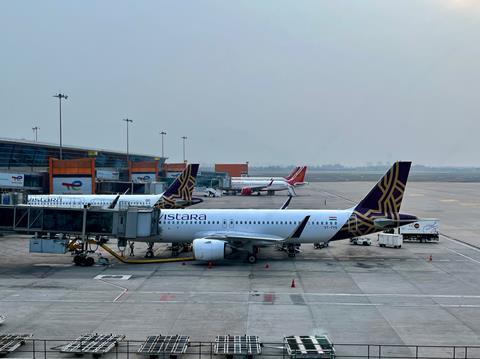 It draws a comparison with the Chinese travel market, noting that Indian airlines flew only around 15% of their total traffic in the year ended 31 March on international routes. This compares to Chinese airlines which operated up to 35% during the same period.
"China is almost 10 years ahead of India in terms of traffic and if we assume that international traffic from India will reach the same sort of level as China in 2032-33, that implies an annual growth of almost 12-13%," the report adds.
HSBC warns that the loss in traffic is due mainly to "inefficient hubs and the lower number of available connections from India". To this end, it notes that the Indian government is planning to redevelop major airports like Delhi and potentially Bangalore and Mumbai into international hubs,
The report adds: "[It] suggests that India could enjoy a huge traffic spike which should be significantly positive for the Indian aviation industry, especially for Air India which is the market leader in the international market but also for IndiGo which is planning to expand sharply in the international market."
Low-cost operator IndiGo, the country's largest carrier by domestic market share, recently announced a slew of international routes, including to Africa and central Asia. It also eyes non-stop flying to Europe when it takes delivery of its longer-range Airbus A321XLR.
On the domestic front, HSBC believes that the market is maturing, providing operators with growth opportunities.
"Domestic traffic growth should be driven by multiple factors including a positive macro environment (like GDP growth, rising urbanisation, etc) but also due to better infrastructure (i.e. more airports) and maturing routes," the report states.