Indian low-cost carrier Akasa Air is taking legal action against pilots who it says left their posts without providing sufficient notice, and that the roster changes have forced it to rationalise its network.
"When a small set of pilots abandoned their duties and left without serving their mandatory contractual notice period, it forced a disruption of flights between July and September 2023, necessitating last minute cancellations that stranded customers and caused inconvenience to the travelling public," says the airline.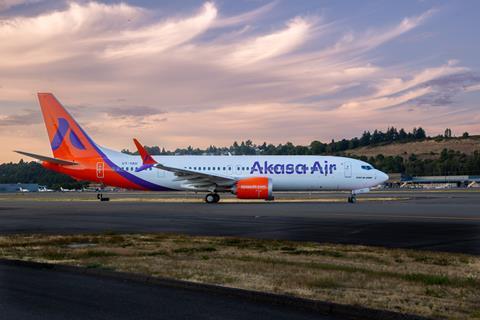 It adds that the notice period is six months, and that it has taken the matter to India's High Court.
Media reports from India suggest that over 40 pilots walked out of the company, with news agency Reuters reporting that they went to Air India Express. FlightGlobal understands, however, that only a small number went to Air India Express.
"Our commitment to be reliable remains sacrosanct – this means that we have chosen to fly less and give up market share in the short term to offer a more reliable network to our customers," adds Akasa.
Reuters cites an unnamed source with knowledge of Akasa's court filing as saying that the carrier is in "crisis".
It also cites an email to employees from chief executive Vinay Dube in which he states that the company's finances are strong and that it will continue to grow its operations.
On 1 August Akasa welcomed its 20th aircraft, a Boeing 737 Max 8-200, making it the first to operate the sub-variant in India.
The addition of the 20th aircraft is an important milestone, because India requires carriers to operate 20 aircraft before they can fly internationally.
Cirium fleets data indicates that the carrier has 56 outstanding orders for 737 Max jets.
Updated with number of employees who went to Air India Express.