IndiGo continues to take mitigation measures to counter at least 10% of its fleet consistently being grounded by issues relating to the Pratt & Whitney engines that power a significant proportion of its aircraft.
Such issues have a particularly high profile in India, after Go First in early May blamed its suspension of operations on the large number of its Airbus A320neos affected by challenges with Pratt & Whitney PW1100G powerplants.
Speaking during a fiscal fourth-quarter earnings call on 18 May, IndiGo chief executive Pieter Elbers said the number of its Airbus A320neo-family jets grounded was "very stable" in the "high 30s", from a fleet of just over 300 aircraft.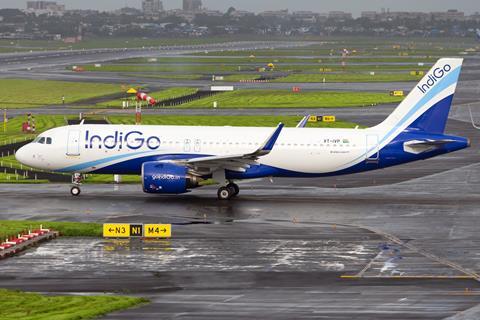 "We have taken a lot of mitigating measures to deal with that situation," Elbers states, noting that IndiGo's large fleet gives it planning flexibility that smaller carriers might not have.
Its mitigation measures – including lease extensions within its existing fleet and the wet-leasing of aircraft – are in place as the carrier continues to surge beyond 2019 capacity levels and towards its aim to double its fleet by the end of the decade.
Among specific actions taken, IndiGo's wet-leasing strategy saw it induct its second Boeing 777 aircraft on 17 May, on lease from Turkish Airlines, to operate the Mumbai-Istanbul route.
Elbers further notes that while its aircraft groundings are "directionally stable" in terms of the number of units affected, IndiGo's incoming A320neo-family jets are powered by CFM International Leap-1A engines, which are not subject to the same challenges.
"That automatically changes the ratio", in terms of the proportion of IndiGo's fleet affected by the issues as time passes, Elbers says.
In the meantime, "we are working closely with Pratt to ensure the issues are addressed", he states.
Pratt & Whitney has said it is working to tackle durability issues with the PW1100G, which have been compounded by maintenance delays amid supply chain and labour shortages.
IndiGo continued on a "path of profitability" in the quarter ending 31 March 2023, as it achieved a record net profit for the period of Rs9.19 billion ($111 million). Its capacity and traffic were both more than a third higher than in the same three months of 2019.
IndiGo had 304 aircraft in its fleet on 31 March 2023 – versus 275 a year ago and 217 in March 2019.