IndiGo is maintaining its full-year capacity guidance as it intensifies mitigation measures in response to news that more of its Pratt & Whitney geared turbofan (GTF)-powered aircraft will be grounded in the coming months.
Supply chain challenges mean the Indian low-cost carrier already has more than 40 GTF-powered A320neo-family aircraft grounded today, chief financial officer Gaurav Negi said during an earnings call on 3 November.
As a result, Pratt & Whitney's confirmation in September that it would need to remove hundreds of GTF engines to inspect for defective high-pressure turbine and compressor discs – a separate issue to those supply chain callenges – is only set to exacerbate that situation.
"Our current estimates indicate that these accelerated removals and incremental shop visits will further adversely impact our operating fleet from Q4 onwards, which is post 1 January 2024, and would lead to higher number of groundings," Negi says.
"We are in constant touch with our OEM to navigate through these challenges," he adds.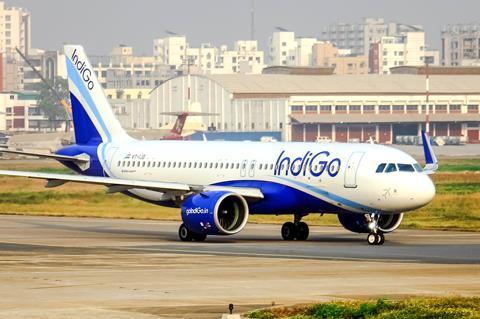 Negi clarifies that IndiGo will be unable to estimate the number of aircraft to be grounded – or the cost impact – until it receives an official service bulletin, but notes that the majority of the engine removals relating to the latest issue are likely to happen in late 2023 or early 2024.
He cites P&W communications which suggest each engine is expected to be in the shop for between 250 and 300 days.
In terms of mitigation measures, Negi says that because of the existing supply chain challenges with the GTF and delays to the delivery of new aircraft from Airbus, IndiGo has for some time been taking steps to boost its capacity.
"To this date we have retained 14 [A320]ceos in our fleet, we have extended and reinducted 36 aircraft, executed damp leases of two widebodies flying on our Istanbul routes, and damp leases of 11 additional aircraft, which will start operating this month," he states.
On top of those measures, Indigo is "executing leases for 12 additional [A320]ceos from the secondary market, with deliveries expected from January 2024 onwards", Negi says.
It will also keep "exploring additional capacity" from the secondary market, he adds.
Furthermore, chief executive Pieter Elbers highlights the fact that few airlines globally have more new aircraft deliveries scheduled in the coming years, despite the delayed arrival of those jets, with IndiGo expecting to receive almost one per week in 2024, helping it to maintain its fleet growth trajectory.
Indeed, Negi states: "With these mitigation initiatives, we reiterate our financial year 2024 capacity growth guidance of north of [the] mid-teens and we also remain confident of meeting our long-term capacity guidance."
IndiGo had 334 aircraft in its fleet on 30 September, including 176 A320neo-family jets – of which around 135 were GTF-powered, the remainder equipped with CFM International Leap-1A engines. Its capacity guidance suggests it will have 350 aircraft in its fleet by the end of its financial year.
Pratt & Whitney parent RTX said in September that it expects an average of 350 GTF-powered A320neo-family jets from the global fleet will be grounded "from 2024 through 2026".