Indian low-cost carrier IndiGo continued on a "path of profitability" in its fiscal fourth quarter, as it achieved a record net profit for the period of Rs9.19 billion ($111 million).
Its January-March 2023 performance reflects its moves to expand significantly beyond its pre-Covid capacity and traffic, with those metrics both more than a third higher than in the same three months of 2019, it revealed on 18 May.
Revenue in the fourth quarter of Rs146 billion was up 78% year on year and by roughly the same amount versus its 2019 result, and its quarterly net profit represented a swing from a loss of Rs16.8 billion in the same period of 2022.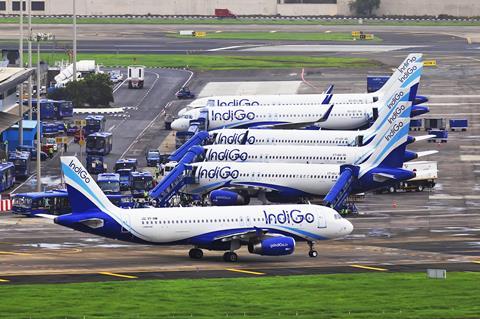 "With a combination of robust market demand and focused execution of our strategy, this was the second consecutive quarter wherein we produced strong operational and financial results," says IndiGo chief executive Pieter Elbers.
While the profit for the January-March 2023 period included a gain of Rs2.53 billion from currency exchange, however, the airline's full-year result was tipped into negative territory by the same factor.
For the year ended March 2023, it made a net loss of Rs3.06 billion, as foreign exchange wiped out what would have been a profit of Rs26.5 billion.
The carrier notes that its profits in the fiscal third and fourth quarters "largely compensated" for losses incurred in the first half of the year, which were driven by high fuel prices and foreign exchange losses – factors that moderated in the second half of the year.
IndiGo had 304 aircraft in its fleet on 31 March 2023 – versus 275 a year ago and 217 in March 2019.
It reports a total cash balance of Rs234 billion on 31 March, up from Rs219 billion at the end of December 2022.