IndiGo remains unconvinced that fuel and foreign exchange hedging would be beneficial to the business, despite such costs weighing heavily on its financial performance in its fiscal second quarter.
Discussing a quarterly net loss of Rs15.8 billion ($192 million) – Rs12 billion of which came from an adverse currency impact – on 4 November, IndiGo chief financial officer Gaurav Negi acknowledged that fuel and foreign exchange costs have "definitely been a headwind", but suggested the low-cost carrier is still minded to avoid hedging either.
"Candidly speaking we do analyse it, it's not something we ignore, but there is a cost of hedging also," Negi states. "So when you look at a short-term hedging… it looks very attractive from an outcome standpoint, but it does have an implication in terms of volatility.
"If you look at a longer window… over 10 to 20 years, whether you hedge or don't hedge, depending on the costs of hedge, it kind of neutralises," Negi suggests.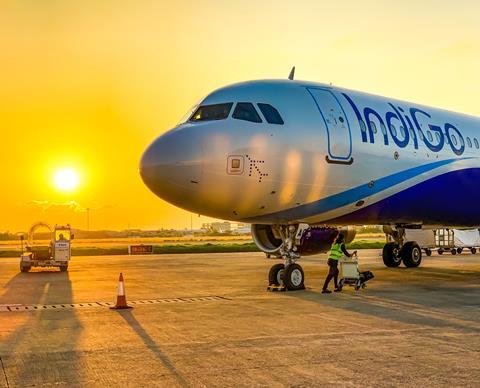 IndiGo has historically avoided hedging, with previous chief executive Ronojoy Dutta calling the concept "dumb".
"Airline after airline has got burnt terribly," Dutta said in June 2020. "And look, we are naive operating people, what the hell do we know about the commodity market?
"And if we did a hedging, we would be doing it on the forward curve against some very smart people from Goldman Sachs and whatever, and they will just eat our lunch."
Today, Negi says IndiGo continues to "look at" hedging under new chief executive Pieter Elbers, but explains that the airline's recent research is "not leading to us going into the market and placing a hedge as an instrument to secure our position" because of the concerns over the long-term benefits.
Elbers has been exposed to the positive side of hedging, with his previous employer Air France-KLM saying during its recent third-quarter earnings briefing that the group was on course to achieve savings of $1 billion thanks to its fuel-hedging policy.
Negi further notes that IndiGo should benefit from an overhaul of how jet fuel is priced in India, with future correlation being to the MOPAG (Mean of Platts Arab Gulf) price, rather than the Singapore jet fuel price.
He says the change follows advocacy from Indian airlines and should mean they benefit more when crude oil prices fall.
IndiGo's cost per available seat kilometre (CASK) was up by 14% year on year in the July-September period, but was down 11% when fuel is excluded and by 25% when fuel and foreign exchange costs are excluded.