While Indonesia's air travel market is recovering from the coronavirus pandemic, several challenges confront the country's airlines.
Following the country's full opening in recent months, domestic passenger traffic is now at 80% of 2019 levels, while the international market is at one-third of its previous size, according to a whitepaper sponsored by IBS Software, and penned by independent aviation analyst Brendan Sobie.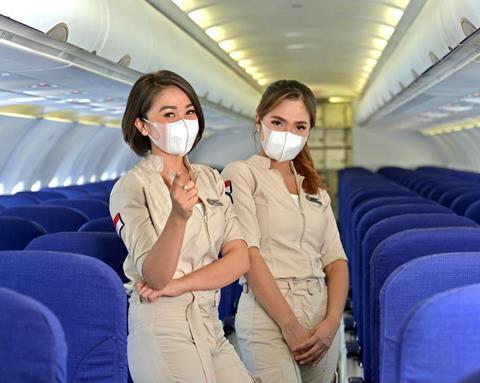 Sobie states that Indonesia was the world's fifth largest domestic market in 2018, and that domestic air travel could hit 2019 levels by the end of the year. International traffic, meanwhile, will reach half of 2019's levels by year end, with a full recovery by the end of 2023.
"Consumers are eager to fly again and embrace new technologies that are transforming the travel experience," writes Sobie.
"However, there are still numerous challenges. Competition is intensifying on trunk routes as new airlines enter. Manpower and MRO constraints are making it difficult to ramp up operations. Some airlines are still restructuring. The regulatory and economic environments are uncertain."
On the competition front, new entrants in the form of Lion Group carrier Super Air Jet and Pelita Air's move to launch scheduled services have made the market more crowded. The launch of TransNusa Air in July will push the number of airlines competing on domestic trunk routes to nine.
"Intensifying competition could make it harder to pass on higher costs to consumers, pressuring yields and making it harder to achieve profitability," write Sobie.
Another challenge will be the reactivation of roughly 180 aircraft – of which about 100 are Airbus a320s and Boeing 737s – that were grounded for the pandemic. Given that some of these aircraft were cannibalised for parts, it will take time and money to restore them. The availability of MRO slots for reactivation work is also a challenge.
So, while demand picks up in Indonesia's domestic market, aircraft reactivation bottlenecks will hinder airlines' ability to add capacity quickly.
Rising fuel costs also present challenges amid Indonesia's price sensitive market.
Yet, Sobie notes that the market has "massive opportunities for all Indonesian carriers." He lists the sheer size of the market, which should reach 200 million passengers by 2030, as well as the potential of new digital tools to improve competitiveness.
"Indonesia's airline sector is at a critical juncture," he writes. "It needs to invest to continue the capacity ramp-up and to improve its proposition to consumers. Rapid growth can be achieved but only with the right investments and strategies."