Indonesia's aviation sector is expected to make a full recovery by 2026, contingent on vaccines and the successful containment of the pandemic.
Domestic and international flight volumes are predicted to return to pre-pandemic levels in 2024 and in 2026, respectively, according to a white paper by Padjadjaran University (UNPAD) and commissioned by the Indonesia National Air Carriers Association (INACA).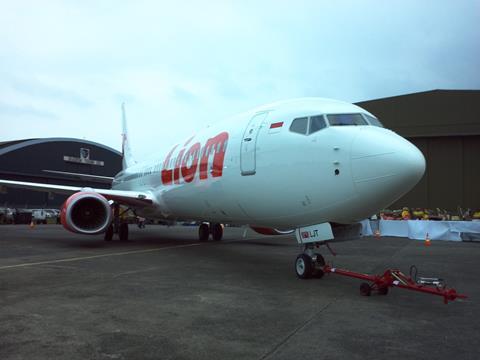 At a 15 April virtual presentation of the white paper, UNPAD researchers outlined three recovery scenarios ranging from optimistic to moderate to pessimistic.
Under the moderate outlook, they expect domestic air travel recovery to start in early 2022 and international air traffic to improve by the end of 2023. They predict domestic passenger volumes will reach nearly 78.7 million in December 2024, almost surpassing the 79 million passengers in 2019.
"Vaccination is a game changer for the recovery of the aviation sector in Indonesia, so there is a need for policies and regulations to accelerate the vaccination programme so that the herd immunity can be reached and activities supporting the aviation sector are created," they say.
According to the researchers' model, doubling or halving the speed of vaccinations could either bring forward a full domestic recovery to as early as December 2022, when annual passenger volumes would reach almost 75 million, or delay it to December 2025, when annual passenger volumes would hit 83 million.
A recovery of domestic air travel would most benefit Jakarta, West Java, Central Java, Yogyakarta and East Java, the researchers note.
Meanwhile, annual international passenger volumes are forecast to hit 38.2 million in December 2026, exceeding 2019's 36.6 million. In the other two scenarios, December 2026 could see annual passenger volumes rebounding even higher to 42 million or returning close to 2019 levels at 36.3 million.
According to Cirium data, the annual seat capacity on international and domestic flights to Indonesia in 2019 stood at almost 163 million, versus 130 million in 2020, a 20% decline year-on-year.
The researchers say that government curbs on air travel have resulted in a 53% contraction of the air transport sector.
INACA chairman Denon Prawiraatmadja notes the impact of the Covid-19 pandemic on aviation in Indonesia.
In March 2020, passengers numbers across domestic and international flights decreased by about 70%, while total cargo fell from 1.1 million to 429 thousand tonnes, he says.
"We know that being optimistic is very important, but making realistic projections is no less important, so that all stakeholders in our aviation industry can adjust to the government programmes," he says.
Indonesia's minister of transport Budi Karya Sumadi says: "During this period, all stakeholders of Indonesia's transportation industry must adapt to new activities, including the aviation sector."
He adds: "I hope that the cooperation among aviation operators can be improved, one of which is maximising flight slot time and launching new domestic routes, so that the aviation industry as a whole will improve."
Founded in 1970, the INACA's current members include flag carrier Garuda Indonesia and its low-cost arm Citilink, Lion Air and its subsidiaries Wings Air and Batik Air, Sriwijaya Air and sister carrier Nam Air, and Indonesia AirAsia.