Etihad Airways chief executive Tony Douglas has called for the aviation industry to work together with all its stakeholders – including policy makers, regulators and passengers – in order to hit its net-zero goals by 2050.
Speaking aboard the 31 March inaugural commercial flight of the airline's new Airbus A350-1000 – dubbed the Sustainability 50 – Douglas said there was "no silver bullet" to cutting aviation's carbon dioxide (CO2) emissions.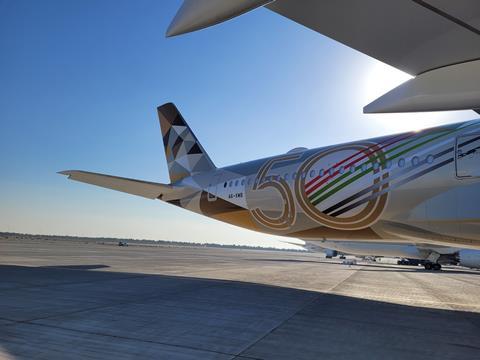 "The physics of flight mean we cannot achieve that emissions target with only one or two big initiatives – it requires many initiatives, big and small, to come together," he says.
Douglas highlights a flight conducted in October last year between London Heathrow and Abu Dhabi base as an illustration of the savings that can be achieved – but also the challenges that still need to be overcome.
Operated with the carrier's Boeing 787-10 Greenliner – an aircraft that has been configured to trial new environmental technologies – the flight cut CO2 emissions by 72% compared with the same service in 2019 using an A380.
While the frugality of the Boeing twinjet over the four-engined superjumbo was a major contributor to the greenhouse gas reduction, the flight was also operated using a 38% blend of sustainable aviation fuel (SAF), albeit this was less than hoped for. "We simply could not get the 50% we wanted," he says.
In addition, the aircraft used an optimised routing through European airspace and a continuous descent profile into Abu Dhabi, which cut the flight time by 40min and produced 6t less CO2.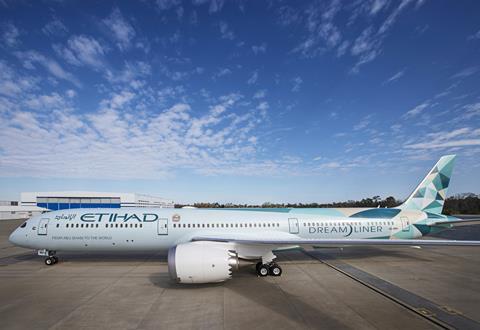 But two key elements of the flight are "not repeatable", Douglas says, citing the low availability of SAF, which also "remains far too expensive" at around three to five times higher than standard jet fuel.
Airspace restrictions also limit the potential for improved routing, he says, noting that the "highways in the sky were designed decades and decades ago" for aircraft that did not fly the distances and durations that modern jets are capable of. This, he says, is a "challenge for policy setters, regulators and governments".
The Greenliner and the Sustainability 50 aircraft are a means to "draw attention" to the fact that a cross-industry solution is required, he says.
"To get anywhere close to the challenge of [net-zero by] 2050 it's all of the above, plus many more initiatives that from a technology point of view are not available to us at this point."
Flight EY037 to Paris Carles de Gaulle is the first commercial service to be operated by Etihad's new A350-1000, an aircraft whose debut has been delayed by the pandemic and a change of strategy at the carrier.