Ireland's High Court has approved Norwegian's plan for financial reconstruction, leaving Norway to render a decision on the carrier's proposal.
The airline seeks permission from creditors and shareholders to continue the remodelling of its business and initiate a capital raise.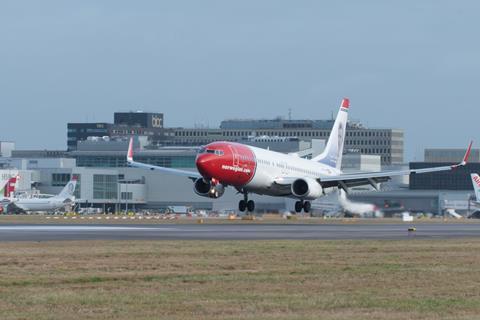 It proposes for unsecured creditors to be entitled to cash and dividends totalling around 5%, which is likely to be converted to stock representing around 25% of the company's share capital.
"We are very happy to learn that the Irish High Court has approved the reconstruction plan. We can now go forward with the reconstruction in Norway and initiate a capital raise", Norwegian chief executive Jacob Schram states.
The verdict was reached after consultations with the company's creditors, with a large majority voting in favour of the process.
"A similar voting process will now take place with the creditors in the Norwegian reconstruction during the next 14 days, prior to the final ruling from the Norwegian Court", states the carrier.
It expects the full process, which began on 17 November, to be complete by mid-May.
Norwegian has been undertaking the process in Ireland because it has several subsidiaries in the country.
The end-goal of the process is to place the company on a stable financial footing and allow it to adapt itself to a new business model based around domestic operations in Scandinavia and short-haul European services.
"This is a demanding and ongoing process, however, the result of the court rulings today enforces our beliefs of a positive final outcome. We are looking forward to and are preparing fora post-pandemic world, without travel restrictions and open borders", comments Schram.
Norwegian had previously warned that without a successful exit from the process it would be "highly likely that the company will enter into liquidation and/or bankruptcy proceedings during the second quarter of 2021".