Israel's government is to offer additional financial support to the country's troubled airlines, approving a proposal for a state aid package worth up to $44 million.
The finance and transport ministries say they have jointly put forward the proposal to provide "immediate cash-flow assistance" given the "exceptional damage" inflicted on the airline industry over the summer, particularly resulting from new coronavirus variants.
Aid will be provided to the airlines "in parallel" with an equity injection, on a one-to-one basis, the finance ministry says. The government will offer support through convertible bonds over a three-year interest-free period.
It says the total amount of state aid to all Israeli airlines, in aggregate, will not be more than $44 million.
After the three-year period each carrier will be able to decide whether to repay the debt from the bonds or convert it to equity allocated to the government.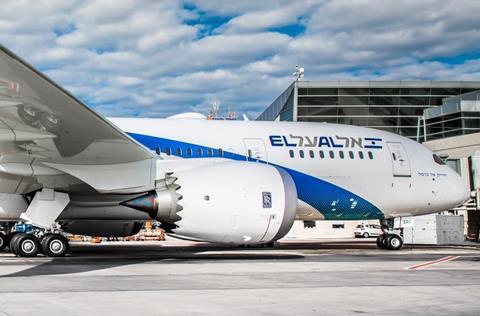 According to finance minister Avigdor Lieberman, the extra aid proposed will allow Israeli carriers to "overcome the difficulties" they have experienced in the last 20 months and "strengthen their capital structure".
This support, he points out, will be returned to the government once the airlines' situation improves.
If the debt is converted to shares, the government's shareholding in any particular airline will not exceed 24%, says the finance ministry.
"As long as the state holds the shares, [it] will not participate in the voting as a shareholder but will be entitled to the equity rights attached to the shares," it adds.
Israeli transport minister Merav Michaeli says the aviation sector is a "significant national strategic asset" and the proposal is a "fair and balanced" one which combines government and company shareholder responsibility.
She adds: "The [plan] will benefit the Israeli public, first and foremost, and will ensure the stability of the companies and their employees."
El Al has acknowledged the government decision, but has not disclosed the size of the potential support package.
It had been engaged in earlier discussions over financial assistance from the government and its controlling shareholder, Kanfei Nesharim, and says it has reached agreements on this measure.