Italian carrier ITA Airways expects passenger revenues to exceed its revised budget for the year as Italy's government is reportedly closing in on a new decree aimed at reviving the stalled privatisation of the airline.
ITA began operations in October last year, replacing Alitalia as Italy's national carrier, and has now begun ticket sales on its new long-haul routes to San Francisco and Washington which start next summer.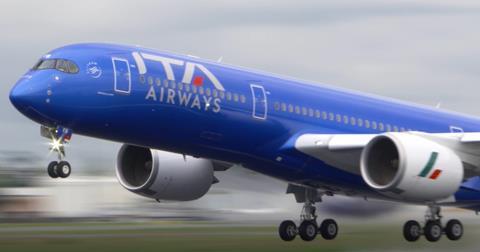 ITA Airways chief executive Fabio Maria Lazzerini says: "We started with our flight operations only 14 months ago and by November 2021 we had only one intercontinental destination in our network, New York, at a time when air transport was at a standstill due to the pandemic context. Today, we offer nine intercontinental destinations in North and South America and Asia, and the new flights to Washington and San Francisco are proof of our growth.
"We expect passenger revenues in 2022 to exceed the value estimated in the budget, considering the reduction in the offered capacity versus forecasts due to the geopolitical context. The increase in destinations is a further confirmation that to achieve our goals it is necessary to focus on long-haul connections."
Italy has for much of the year been working to secure a strategic investor for ITA, and the Certares consortium – which featured the carrier's SkyTeam partners Air France-KLM and Delta Air Lines as strategic investors – held exclusive talks on taking stake in the airline earlier this year. However, those talks ended in October with no deal.
Since then little has been officially confirmed about the status of the planned sale. But widespread Italian media reports say the new government in Rome, which took office in October, has drafted a decree which drops the requirement for an investor to take a majority share in the airline from the outset, in a bid to facilitate a deal by initially selling only a minority stake.
Lufthansa, which established a consortium with shipping firm MSC to launch a bid for ITA, reportedly remains interested in participating. The German airline has been consistently linked with ITA in the Italian media over the last month, though MSC in November said it had ended its interest in participating in the sale.