Asia-Pacific carriers continue to build-up their international networks, with Japan Airlines (JAL) planning a pioneering route to the Middle East, and start-up Greater Bay Airlines adding its sixth destination.
JAL announced that it will be the first Japanese carrier to operate a nonstop service to the Middle East, with the planned launch of a Tokyo Haneda-Doha service in the summer of 2024.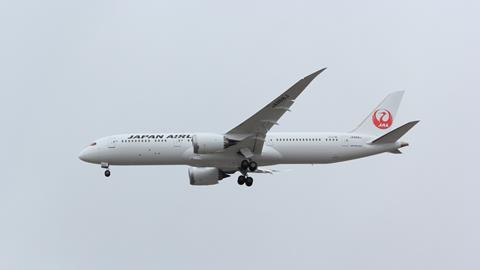 The service will be operated daily with Boeing 787-9 aircraft, and passengers will be able to connect onwards to Africa and other Middle Eastern destinations with fellow Oneworld member Qatar Airways.
Fiji Airways also launched an inaugural service on the Nadi-Canberra route, operating twice weekly.
"This direct service will provide customers with enhanced connectivity and convenience, offering seamless access to the stunning islands of Fiji and the capital city of Australia," says Fiji Airways chief executive Andre Viljoen.
"We also open up a new transit point for the people of Canberra to travel onwards to other parts of the world."
The service adds to Fiji Airways' Australian network, which already includes Adelaide, Brisbane, Melbourne, and Sydney.
Vietnamese low-cost carrier Vietjet has launched its inaugural flight on the Ho Chi Minh City-Tokyo Haneda route, with the service to operate daily. The carrier already serves Tokyo Narita and other Japanese destinations.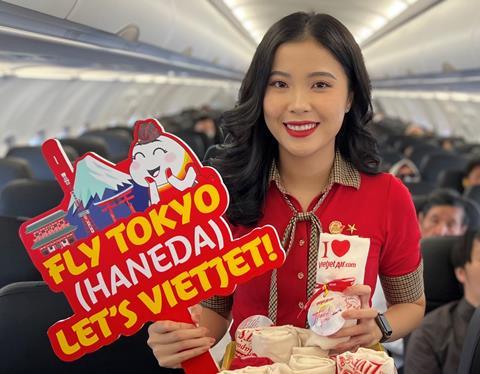 Vietjet will also increase capacity from Hanoi and Ho Chi Minh City to Indonesia, citing rising demand. From 12 August it will operate 84 weekly services to Indonesia, with an increase of flights to Bali to five times weekly. FlightGlobal understands that the carrier is tapping Indian traffic headed to the Indian resort island – Vietjet also operates to several Indian cities.
Hong Kong's Greater Bay Airlines, meanwhile, has launched a twice-weekly service to Ho Chi Minh City, it's sixth destination.
South Korean carrier Asiana Airlines has also broadened its Southeast Asian network, with the launch of a twice-weekly service from Seoul Incheon to the popular resort island of Bohol in the Philippines.
Korean Air, which is in the process of acquiring Asiana Airlines, also announced the resumption of services to several destinations in China and Japan, as its international passenger capacity returns to 82% of pre-pandemic levels.
Korean will re-start flights to the Chinese cities of Changsha, Wuhan, and Weihai, as well as the Japanese cities of Fukuoka and Nagoya. This marks the first time the carrier has served the five destinations in over three years.
AirAsia Malaysia has also boosted international capacity, increasing frequencies on the Kuala Lumpur-Colombo route to 11 times weekly.