Japan Airlines will make additional investments in two of its three low-cost units, Jetstar Japan and Spring Japan, as it looks to build up a low-cost network centred around its Tokyo Narita hub.
Though it did not disclose the financial value of the investments, JAL says they are partially supported by funds raised from a public offering in November 2020.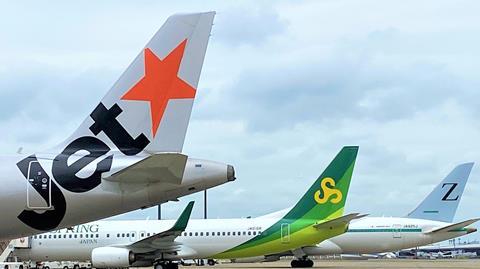 The latest announcements comes as Spring Japan officially became a JAL consolidated subsidiary.
The Oneworld carrier first disclosed plans to acquire Spring Japan — a joint venture with Chinese low-cost giant Spring Airlines — in early May, as part of its medium-term business plan.
JAL had previously owned 48% of the low-cost unit, though this was boosted to a majority stake following the acquisition.
In its latest update, JAL reiterated its broad low-cost strategy involving its three units, which also comprise medium- to long-haul unit Zipair.
The three Narita-based carriers will each target a specific market, states JAL. Together, they will target "revenue growth in low-yield markets, with steady recovery and solid growth potential" following the coronavirus pandemic, which has impacted the carrier's profitability.
Spring Japan will target the China-Japan travel market, which JAL previously disclosed is expected to recover in the near-term.
As for Jetstar Japan, JAL says its additional investment will help "recover [its] financial structure damaged by the coronavirus pandemic". The low-cost unit will focus mainly on the domestic network.
Zipair, which began operations in September 2020 and is expected to operate flights to the US west coast and Asia, will "grow by attracting new customers that JAL, the conventional full-service carrier, has not been able to reach", says JAL.
The carrier adds: "The JAL Group will continue to build a global network that leverages the strengths of the three Narita-based LCCs, while maintaining the basic premise of safety and security, to realise the goal of "reaching regions of Japan from around the world and regions of Japan from around the world. We will also contribute to the revitalisation of Japan's regions and meet the diverse needs of our customers."