Japan Airlines returned to profitability in the first half of its financial year, as international passenger revenues soared past pre-pandemic levels.
The bullish carrier also revised upwards its profit forecast for the full financial year, on expectations that international traffic will grow faster than expected.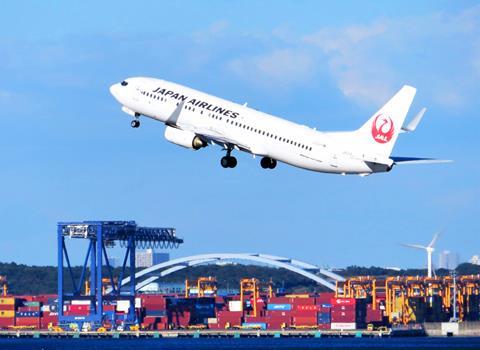 JAL now targets a net profit of Y80 billion for the year ending 31 March 2024, higher than previous estimates of around Y55 billion. Revenue is now forecast to be close to Y1.7 trillion, against early forecasts of Y1.66 trillion.
For the six months to 30 September, JAL made an operating profit of Y88.3 billion ($588 million), reversing the Y4.1 billion loss in the year-ago period.
Net profit stood at Y61.6 billion, a sharp swing against the Y2.1 billion net loss last year, and 14% higher than its pre-pandemic net profit.
Group revenue rose 33% year on year to Y821 billion, helped by a significant increase in international travel revenue. JAL's low-cost units, comprising medium-haul carrier Zipair and joint venture Spring Japan, saw revenue more than double year on year as well.
JAL also notes that its revenues were nearly 10% higher than the same period in pre-pandemic 2019.
Group expenses, meanwhile, increased about 16% year on year to Y737 billion. Compared with pre-pandemic 2019, airline costs rose by close to 10%.
The airline says it has "effectively captured" the recovery in demand, especially in international travel.
As of 30 September, its international passenger numbers had recovered to around 67% of pre-pandemic levels; domestic passenger volumes stood at around 90%.
"In the second quarter, passenger demand exceeded initial expectations… with strong inbound international passenger demand and signs of recovery in outbound business demand from Japan," the carrier states.
It warns, however, of an "increasingly severe" international environment, with challenges such as a weak Yen, and rising fuel costs.