Japan Airlines Group swung back to profitability in its fiscal first-quarter, amid an uptick in passenger revenues past pre-pandemic levels.
The Tokyo-based airline group reported an operating profit of Y31.3 billion ($219 million) for the three months to 30 June, reversing the Y27.6 billion loss it posted in the year-ago period.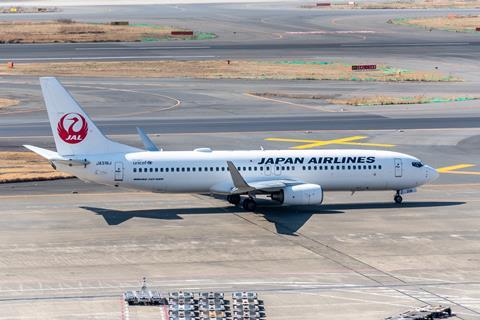 Compared to the same quarter in pre-pandemic 2019, the airline group – comprising mainline carrier JAL and low-cost units Zipair and Spring Japan – saw operating profits increase 57%.
JAL Group reported a 42% jump in operating revenue to more than Y381 billion, led primarily by an increase in passenger revenue following the reopening of Japan's international borders.
Mainline operator JAL saw international passenger revenues more than double to Y149 billion year on year, amid a two-fold increase in passenger volume.
International traffic rose 88% compared to the year-ago period, while capacity grew 66%.
JAL notes that while strong demand remains for inbound flights to Japan, it is beginning to see demand recovery in outbound flights, which were slower to recover following the reopening of Japan's borders in late-2022.
JAL's domestic revenue rose 38% year on year to Y122 billion, as passenger numbers rose 41%. Traffic grew at a similar rate, outpacing a 6% increase in capacity.
The low-cost business, meanwhile, saw revenue jump four-fold, led by Zipair, which saw passenger revenue increase nearly six-fold year on year.
As for cargo, JAL reported a 54% year-on-year decline in revenue to Y26 billion, amid weaker market conditions. Still, the airline notes that the revenue is higher than pre-pandemic 2019.
Group expenses were up 16.5% year on year to Y353 billion, with increases in both fuel and non-fuel costs.
JAL Group posted a net profit of Y23 billion, reversing the Y19.5 billion quarterly net loss in the year-ago period.
While it did not change its earnings forecast - an EBIT of Y100 billion for fiscal 2023 - it notes that the outlook for international recovery "looks promising". On cargo, it hopes to mitigate a softening market by focusing on "high value-added goods, such as pharmaceuticals, through high-quality transportation services".