Japan Airlines narrowed its first-quarter loss on the back of rising revenue, warning that it is "difficult to reasonably foresee" the timing and nature of the sector's recovery.
For the three months ended 30 June, the Oneworld carrier reported an operating loss of Y82.6 billion ($760 million). This compares to an operating loss of Y131 billion during the same period in 2020, at the onset of the global coronavirus crisis.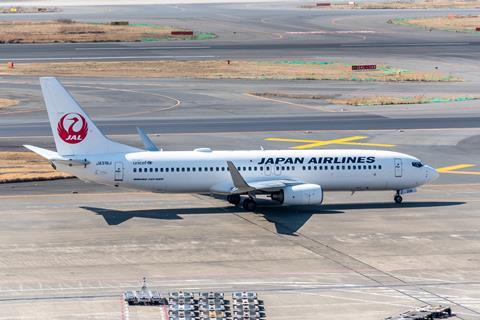 JAL saw revenue increase 74% from 2020's low base, to Y33 billion. When compared to the same quarter in pre-pandemic 2019, it reflects a 62% drop, with the sharpest decline in international passenger traffic.
Cargo revenue performed better: at Y47.6 billion in 2021, it was 79% higher than 2020, and more than twice the same period in 2019.
As for expenses, JAL reported a 4.6% increase year on year, to Y215 billion. Compared to pre-pandemic levels, it represented a 35% decline.
The carrier, Japan's second largest airline, also managed to narrow its net loss for the quarter to Y57.9 billion, compared to Y93.7 billion a year ago.
JAL reported significant year-on-year improvements in traffic, due to an upswing from a very low base in 2020. Still, traffic was much lower compared to pre-pandemic levels, given ongoing travel restrictions and fresh infection waves.
For the quarter, the airline carried just 149,000 international passengers, more than thrice the same period in 2020, but nearly 94% lower compared to 2019.
JAL flew 2.7 million domestic passengers during the period, a two-fold increase year on year, but about 71% lower than pre-pandemic numbers.
The Tokyo-based carrier did not provide a forecast for full-year earnings, noting: "It is difficult to reasonably foresee the recovery of international passenger and domestic passenger demand."
It anticipates a slight uptick in domestic passenger traffic in the coming months, despite the country's declaration of an emergency amid an infection surge. Still, nunbers are expected to be significantly below pre-pandemic levels.
It states that recovery will depend largely on the coronavirus situation in Japan and around the world, as well as vaccination rates.
Japan is battling a record increase in coronavirus infections, fuelled by the more contagious Delta variant. As at 2 August, the country, which is also hosting the Summer Olympics, reported nearly 8,400 new cases, with several parts of Japan put under lockdown.
To cope with depressed travel demand, JAL has in recent months fortified its low-cost carrier stable, with the hope of capturing "swiftly" the first signs of post-pandemic travel recovery in Asia.
In June, it announced it was acquiring Spring Japan — hitherto a joint venture with China's Spring Airlines — to become a consolidated subsidiary.
JAL has also recapitalised Jetstar Japan with fellow Oneworld member Qantas, and will position the carrier to capture domestic low-cost market growth.