Skymark Airlines returned to profitability in its nine-month earnings, buoyed by a return of leisure domestic travel demand.
In its first earnings disclosure since being re-listed in December, the Japanese domestic operator was Y3.4 billion ($25.8 million) in the black for the nine months to 31 December 2022.
This compares to the Y11.3 billion operating loss it posted in the year-ago period.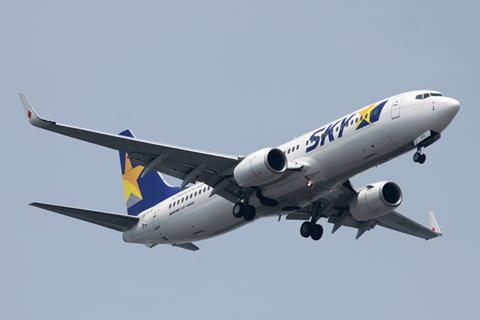 The airline reported a 75% year-on-year increase in operating revenue to Y62.5 billion, as it was able to tap into strong leisure and VFR (visiting friends and relative) demand.
Skymark notes that in the three months to 31 December, its passenger numbers - at 1.96 million - was close to the volume seen in the same period in 2019, its last financial quarter before the coronavirus pandemic.
Compared to the October-December in 2018, Skymark says passenger numbers have already exceeded by about 6%.
RPKs for the nine months was up 62%, while capacity rose about 19% against 2021.
Meanwhile, costs for the quarter rose about 26% year on year to Y59.2 billion, as variable costs increased with a ramp-up of flying.
The airline recently firmed up its orders for Boeing 737 Max aircraft, a move it says will help it to "gradually…gain [slots] in domestic flight routes" at Tokyo Haneda airport, one of the airline's two hubs in Japan.
Its four orders – for two Max 8s and two Max 10s – will enter its fleet from 2026, while another six on lease will be delivered from 2025.
At the end of the nine-month period, the airline had a fleet of 29 Boeing 737-800s.
Skmark was de-listed in January 2015 following a bankruptcy at the carrier. The carrier was ultimately rehabilited through a plan backed by ANA Holdings, which owns 16.5% in the carrier.