Japanese carrier Skymark Airlines was loss-making in the first-quarter, despite seeing passenger volumes hit record highs amid strong domestic travel demand.
The carrier reported an operating loss of Y1.4 billion ($9.6 million) for the three months to 30 June, which it attributes to an "increase in variable costs such as aircraft fuels", along with an increase in "outsourcing fees" for maintenance and equipment.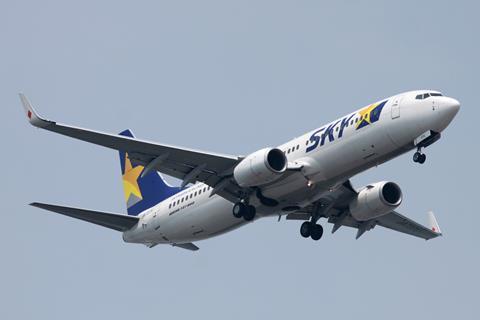 Skymark did not provide a year-on-year comparison, as it did not release a financial statement for the same period a year ago. However, it was profitable in the year to 31 March, on the back of strong passenger revenue growth.
Revenue for the quarter stood at Y22.1 billion, while costs amounted to Y22.5 billion.
Skymark, which only operates domestic flights, carried close to 1.9 million passengers during the quarter, up nearly 40% year on year. It also notes that the figure is the highest passenger volumes recorded for the April-June period.
"[Passenger] demand has been robust amid the normalisation of social activities, and further demand expansion is expected because of a shift of travellers to domestic travel and increase in the number of tourists visiting Japan due to the weak yen," the airline states.
Skymark also confirms its full-year earnings forecast remains unchanged. It expects to report an operating profit of Y5.6 billion for the year ending 31 March 2024.