SkyMark Airlines has reported a significant jump in its six-month operating profit, amid a "full-fledged recovery" in passenger travel demand, with passenger volume hitting record highs.
The Japanese domestic operator posted an operating profit of Y3.2 billion ($21 million) for the six months to 30 September, up almost 94% year on year. SkyMark also posted a net profit of Y3.3 billion, up almost 23% year on year.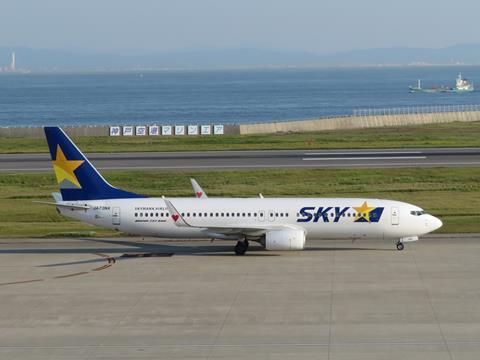 The carrier recorded a 28.3% increase in revenues to Y52 billion, outpacing a 26% rise in costs to Y45.9 billion. It carried a record 3.97 million passengers in the six-month period, up 23% year on year.
SkyMark attributes the rise in costs to an increase in flights – it operated 3% more flights than the year-ago period – as well as in fuel costs and outsourcing fees.
"The strong passenger demand is expected to continue because of the shift of travellers to domestic travel and the increase in the number of tourists visiting Japan due to the weak yen," SkyMark says in brief remarks about its outlook.
Separately, the airline disclosed a change in its major shareholder. In a filing dated 14 November, SkyMark says its largest shareholder Integral 2 has transferred a portion of its shares to financial consulting services firm Suzuyo Holdings.
The deal, valued at around Y7 billion, will see Integral's shareholdings reduce from 16.6% to around 5%. Meanwhile, Shizuoka-based Suzuyo will take a 13% shareholding in the carrier.