Japan long-haul, low-cost carrier Zipair Tokyo has signed up for SpaceX's Starlink service to provide onboard internet to its passengers.
The Japan Airlines unit is the first carrier in the Asia-Pacific to sign up with the service.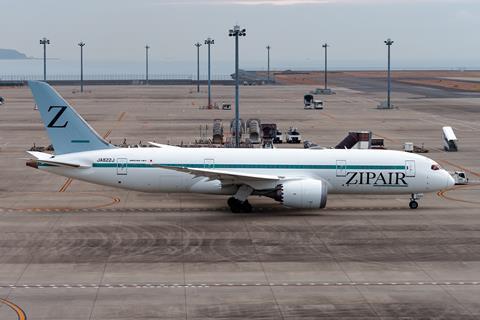 "Once integrated, all Zipair passengers will be able to seamlessly connect to Starlink's high-speed, low-latency network anytime onboard – enabling real-time video conferencing, streaming, and gaming for all passengers," says SpaceX vice president Jonathan Hofeller.
"As the first Asian airline to implement Starlink, Zipair is setting a new standard for in-flight connectivity, and we're excited to work with the company to provide this modern in-flight connectivity experience."
Starlink uses a constellation of satellites in low-Earth orbit to provide global Internet coverage.
Zipair adds that itself and SpaceX are conducting an engineering review and a certification process related to the Starlink installation.
Cirium fleets data indicates that Zipair operates four Boeing 787-8s, with an additional -8 on order. From its base at Tokyo Narita, it operates to Bangkok, Honolulu, Los Angeles, San Jose, Singapore, and Seoul.
"We are committed to pushing the boundaries of what's possible in air travel and are excited to be a part of that future," says Zipair president Shingo Nishida.
"We believe that our work with SpaceX is very important to increase the speed of in-flight Internet communications and achieve a new standard in the industry."