South Korean low-cost carrier Jeju Air has successfully bounced back from the coronavirus pandemic, as it prepares to induct the Boeing 737 Max 8.
During the first half of 2023, the Seoul Gimpo-based carrier flew 2.5 million passengers on domestic and 3.3 million passengers on international routes, surpassing the number flown in the first six months of 2018, according to chief executive E-Bae Kim.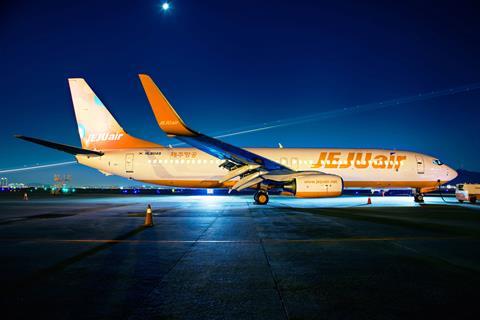 He adds that the carrier's domestic network has fully rebounded compared with 2019, but that international traffic is just 75-80% of pre-pandemic levels.
"With the exception of the South Korea-China route, which experienced a delayed recovery due to the Covid-19 pandemic, most of our major routes from 2018-2019, which were profitable, have largely regained their pre-pandemic performance," says Kim.
"We continuously adapt our route portfolio with a focus on both profitability and growth."
Domestically, Jeju Air is focused on retaining its strong market share on the key Seoul-Jeju route, while on the international front it recently resumed services to Hong Kong, as well as leisure destinations such as Boracay in the Philippines and Phu Quoc in Vietnam. Kim says these routes are adding additional revenue and operating profit.
Kim believes that if current trends hold, the carrier is on track to achieve recover revenues and operating profits. In the first half of 2023, revenue more than tripled to W792 billion ($585 million), as the carrier swung to an operating profit of W93.9 billion.
The carrier operates about 40 737-800s as well as a pair of 737-800BCF freighters. Next month will see it introduce its first two 737 Max 8s from its orderbook of 40 examples.
The updated 737 variant will allow Jeju Air to contemplate longer range routes, specifically Indonesia and Central Asia.
"Our route strategy prioritises profitability while simultaneously staying attuned to the latest travel trends and actively seeking to pioneer new markets with high growth potential," says Kim.
"Developing new destinations is considered a consistent growth driver for Jeju air, and we are proactively preparing for this."
Kim acknowledges that Jeju Air has faced the supply chain issues that have proven to be an issue for airlines in general.
Exchange rates and fuel costs also present challenges, as does increased competition amid the strong rebound in air travel following the pandemic.
Nonetheless, Kim feels that Jeju Air has important strengths, namely its traffic rights and slots, as well as its ability to manage costs.
"Despite the cash flow challenges posed by the pandemic, we have diligently prepared in stages, and we are now on the verge of achieving our goals," says Kim.
"Particularly, the advantages of acquiring the 737 Max 8 through financing lease and the aircraft's fuel efficiency will serve as Jeju Air's competitive edge in the market. Maintaining our core workforce during the pandemic also enhances our competitiveness."