The relaunch of India's Jet Airways – already delayed because of legal woes – faces further uncertainty after CEO-designate Sanjiv Kapoor resigned from the airline.
A notice on Jet's website says Kapoor stepped down on 1 May at the end of his notice period. Jet parent Jalan-Kalrock Consortium says a new airline leader "will be announced shortly".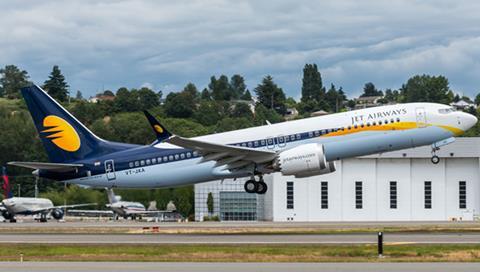 Kapoor, an industry veteran who previously held senior leadership roles in compatriots SpiceJet and Vistara, was appointed CEO-designate in April 2022, in the lead-up to the airline's relaunch under new owners Jalan-Kalrock.
Debt-laden Jet Airways collapsed in 2019 – as the country's largest privately-owned carrier – after running out of cash. A resolution plan from new owners Murari Lal Jalan and Kalrock Capital received court approval in June 2021, and Jet clinched its its air operator certificate from Indian regulators in May 2022.
Jet previously disclosed plans to relaunch in the third quarter of 2022, but by November had yet to take off, amid reports of a legal wrangle between the airline's new owners and creditors over the revival plan – a move that could yet derail Jet's return.
In their latest comments, Jalan-Kalrock acknowledges that the airline's relaunch "has taken more time than originally estimated by us".
"We are in the last leg of closing the transfer of ownership of Jet Airways to [the consortium], subsequent to which we will settle outstanding amounts payable to previous creditors as per our approved resolution plan and shall, soon thereafter, recommence the commercial operations of Jet Airways as per our relaunch plans," says Ankit Jalan, a consortium board member.
Kapoor, on his part, states: "I am a firm believer in the tremendous value that can be created by full-service carriers such as Jet Airways following bankruptcy restructuring, and I know [Jalan-Kalrock] is fully committed towards the revival of Jet Airways and wish them the very best."
Kapoor previously stated during the CAPA India Aviation Summit in March that the new Jet Airways will take a "new approach" to its business model. He added that the relaunched business strategy "will not be a copy-paste" from the old airline.