India's Directorate General of Civil Aviation (DGCA) has renewed the air operator certificate of grounded Jet Airways, following months of uncertainty over the airline's revival.
A statement from the airline's parent, the Jalan-Kalrock Consortium, says the DGCA greenlit the renewal on 28 July. The move, it adds, "revalidates the confidence of the Indian aviation regulator in the revival of Jet Airways".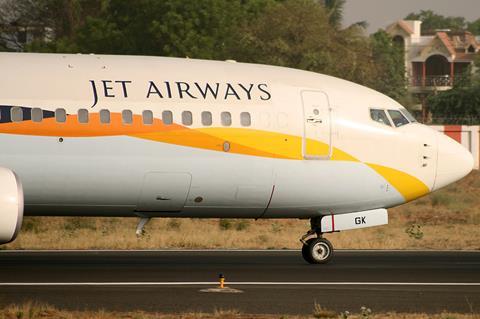 The news is a welcome reprieve for the long grounded carrier, which in recent months had its revival thrown into question following legal woes and the abrupt departure of its CEO-designate Sanjiv Kapoor in May.
While Kapoor's successor has not been named, the consortium has beefed up the airline's board of directors and announced a new finance chief for the airline.
Debt-laden Jet Airways collapsed in 2019 – as the country's largest privately-owned carrier – after running out of cash. A resolution plan from the consortium - comprising tycoon Murari Lal Jalan and Kalrock Capital - received court approval in June 2021, and Jet clinched its its air operator certificate from Indian regulators in May 2022.
Plans to relaunch operations have been pushed back several times, amid reports of a legal wrangle between the airline's new owners and creditors over the revival plan.
In its latest statement, the consortium says it "remains fully dedicated" to reviving the airline.
"[The consortium] will continue to work closely with all relevant authorities, industry partners, and stakeholders in reviving Jet Airways in coming weeks," it adds.