Jet2's first Airbus A321neo has entered service, marking the beginning of its shift away from operating a Boeing-dominated fleet.
The CFM International Leap-1A-powered narrowbody debuted on the carrier's Manchester-Malaga route on 7 May, tracking data for airframe G-SUNB shows, with its official entry into service marked by the airline on 10 May.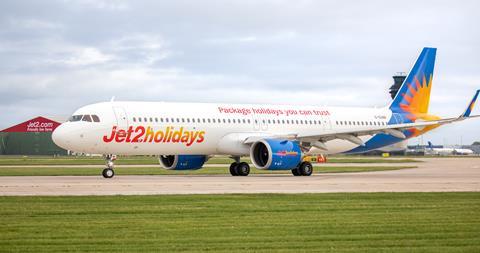 "As more of these new aircraft come into our fleet, they will play a huge role in supporting our continued growth," says Jet2 chief executive Steve Heapy.
The UK leisure carrier's order for the type in 2021 was a notable decision from what is currently a predominantly Boeing operator.
At the time, it described the A321neo as "the most efficient and environmentally friendly aircraft in its class today".
Following further orders with Airbus, Jet2 now has 97 A320neo-family deliveries outstanding, including 62 of the larger A321neo variant and 35 of the smaller A320neo. It has options to extend the orders to cover a total of 146 aircraft.
Its current fleet of just over 100 aircraft is dominated by Boeing 737-800s.