US low-cost carrier JetBlue Airways says that it will offset all of its emissions from domestic flights beginning in July 2020, becoming the first major US airline to do so in an effort to reduce its carbon footprint from flight operations.
In addition, the New-York-based airline said on 6 January that it will begin to use sustainable aviation fuel, made from waste and residue raw materials, on flights departing from San Francisco beginning in mid-2020. The fuel will be supplied by Finnish refiner Neste, the world's largest producer of renewable fuels.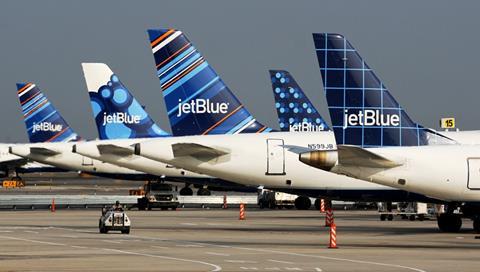 JetBlue did not quantify how much biofuel it would purchase, or what percentage would be used on each flight.
Biofuel has a carbon footprint up to 80% smaller compared with traditional fossil jet fuel.
In December, Delta Air Lines announced plans to purchase 39.4 million litres (10 million USGal) of biofuel annually in an effort to reduce the carrier's carbon footprint and meet global aviation sustainability goals. United Airlines has used biofuel on flights from its Los Angeles hub since 2016.
"Air travel connects people and cultures, and supports a global economy, yet we must act to limit this critical industry's contributions to climate change," says JetBlue chief executive Robin Hayes. "We reduce where we can and offset where we can't. By offsetting all of our domestic flying, we're preparing our business for the lower-carbon economy that aviation – and all sectors – must plan for."
JetBlue currently runs a smaller program to offset emissions in partnership with the non-profit carbonfund.org, and says it has already offset more than 1.17 million tonnes (2.6 billion pounds) of carbon emissions. This new program announced on Monday is expected to offset an additional 7-8 million tonnes of emissions per year – "the annual equivalent of removing more than 1.5 million passenger vehicles from the road", the airline says.
To offset carbon emissions, the airline says it plans to support projects in "less economically developed countries where a bigger community impact can be made", for example, in the areas of forestry, landfill gas capture and building solar and wind farms to produce renewable energy.
Yet the aviation and aerospace industries still have a long way to go in terms of sustainability and carbon-neutral operations, chief executive Hayes says. "Carbon offsetting is a bridge to, not a silver bullet for, a lower carbon future," he adds.
The aviation industry has committed to sustainability goals under an ICAO-led framework called the Carbon Offsetting and Reduction Scheme for International Aviation. That effort calls for the airline industry to cap carbon output at 2020 levels and to cut emissions to half of 2005 levels by 2050. However, some industry observers, citing the projected expansion of air travel, have raised doubt about the industry's ability to meet that goal.
More and more of those efforts are focusing on building capacity for and supply of sustainable aviation fuel, and lowering its costs.
Last month, IATA said that global sustainable fuel production is forecast to expand from around 15-20 million litres annually in 2019, produced from three major facilities, to around 1.35 billion litres of yearly production, factoring in a further six facilities that are under advanced planning. If all facilities under construction are included, SAF supply could hit 1.7 billion litres annually, IATA estimates.