JetBlue is set to terminate an alliance with American Airlines in the coming months, and will focus instead on a planned $3.8 billion acquisition of Spirit Airlines.
Calling it a "difficult decision", JetBlue says it will comply with a federal court ruling in May to permanently unravel the "Northeast Alliance" (NEA), which the court said violated an anti-trust law.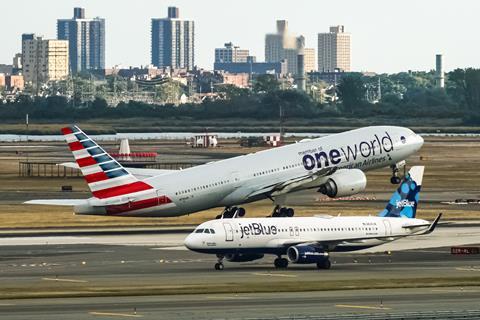 The two carriers were sued by the US Department of Justice (DOJ) in September 2021, which claimed that the NEA would stifle competition.
"[JetBlue] has instead initiated the termination of the NEA, beginning a wind down process that will take place over the coming months," the carrier states on 5 July, stressing that it still "stands behind the pro-competitive impact of the alliance".
It adds that it will now "turn even more focus" on the Spirit acquisition, which it hopes to close by early 2024, but which has faced a series of legal roadblocks.
The New York-based carrier contends that the acquisition of its ultra-low-cost rival is now "the best and most effective opportunity to truly transform the competitive landscape" in the USA.
It adds that the termination of the alliance would render "entirely moot" DOJ objections on its plans to acquire Spirit, and has urged the US government to "reconsider and support its plan" to create a competitor for major US airlines.
JetBlue's latest comments come over a month after alliance partner American said it would appeal the court's decision on the NEA. American chief executive Robert Isom told investors at a conference on 31 May he was "disappointed and quite frankly disagree" with the ruling.
In a statement issued in response to JetBlue's decision, American says it will "move forward" with an appeal despite the latter's decision to pull out of the alliance.
"[JetBlue's] decision and reasoning confirm our belief that the NEA has been highly pro-competitive and that an erroneous judicial decision disregarding the NEA's consumer benefits has led to an anti-competitive outcome," the Oneworld carrier adds.
American and JetBlue unveiled their "strategic partnership" in the northeastern USA, focused on Boston and New York City, in mid-2020. It was designed to even the playing field to compete with United Airlines and Delta Air Lines, which have larger presences at airports in both metropolitan areas.