Airbus's legal clash with Qatar Airways over A350 skin-paint degradation appears likely to go to trial in summer 2023, after a judge ruled that the case should be tried at the earliest opportunity.
Qatar Airways is claiming a degree of success from securing the expedited hearing but the airframer – which had argued that a trial before January 2024 was not "realistic" – has been given the freedom to continue building A350s for the airline, and to resell them if Qatar refuses delivery.
The latest preliminary court encounter in London's High Court on 26 May resulted in the judge's declaring he was in "no doubt" that the case needed to be tried as soon as possible.
Airbus felt that, given the complexity and the likely number of witnesses, a trial would take 10-12 weeks, rather than six as suggested by the airline, and a date of March 2023 would be too early.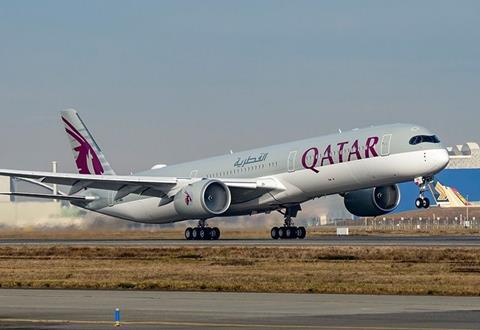 But the judge has sided with Qatar Airways, which has welcomed the decision.
"We entered into this process to secure an expedited trial and early disclosure from Airbus that will give us an insight into the true nature of surface degradation affecting the A350s," the carrier says.
"We will finally be able assess the cause of the damage to our aircraft and the expedited trial will provide a swift resolution of this unprecedented dispute."
But Qatar Airways failed to convince the court to split the trial into two parts – a measure which, Airbus says, would have slowed the process.
Qatar was also unsuccessful in obtaining injunctions on A350 production. Airbus has been continuing to build the airline's aircraft – 20 A350-1000s were still on Qatar's backlog at the end of April – but individually cancelling them, and offering them to other customers, if Qatar does not formally take delivery.
Airbus says it is "pleased" that the legal dispute can proceed "with all due speed" to concentrate on the "main topic" – the alleged misrepresentation of the A350's safety and airworthiness by Qatar.
While stating that it will defend its reputation against Qatar's claims, the airframer adds that it would still prefer "engagement" with the airline and an "amicable solution" to end the dispute.
"Continued litigation is not in the interests of either party," it says.