Kenya's Capital Markets Authority has granted a year-long suspension of share trading in Kenya Airways to give the SkyTeam carrier more time to complete its restructuring.
The notice from the authority extends for 12 months the suspension in trading until 5 January 2023. Kenya Airways originally requested the suspension in the trading of its shares in the summer of 2020 as part of restructuring amid the Covid-19 pandemic.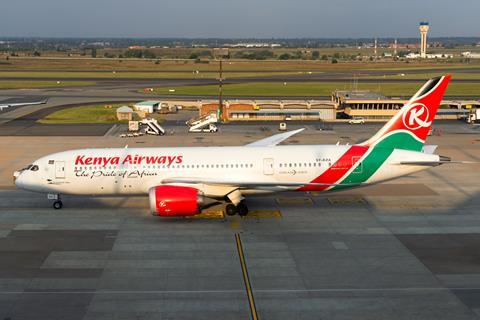 Kenya Airways' ongoing restructuring has included reducing its network, trimming back and renegotiating deals with aircraft lessors, as well as seeking labour savings. Progress on the latter has been harder to achieve and notably relations with pilots soured during strike action, which only ended in November following a labour court intervention.
A fresh report from the International Monetary Fund, which signed off fresh financial support to Kenya in December, flagged that in addition to taking over $827 million of Kenya Airways debt, the Kenyan government would provide $473 million in support to the carrier over the current and previous financial year to clear overdue payment obligations and cover the upfront costs of restructuring.