Dutch carrier KLM is to repay the remainder of the €942 million ($984 million) it borrowed from the state and banks under a loan package granted during the Covid-19 crisis.
The Netherlands provided a €3.4 billion credit facility to KLM which was tied to a number of conditions, including labour cost-saving commitments, and is set to run to 2025.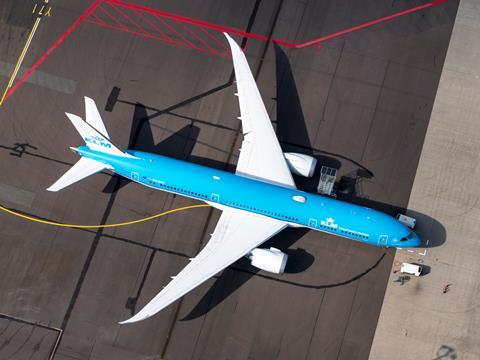 KLM drew down €942 million of this facility and had already repaid €665 million to the banks in payments made earlier in May and June. It is now redeeming the €277 million portion of the loan issued by the Dutch government.
However, continued challenging conditions, including inflation, rising costs, the war in Ukraine and the continued threat of Covid, means KLM has opted to retain access to future credit.
KLM says that, after the loan repayment, it will continue to have a credit facility of €2.4 billion at its disposal, comprising a €723 million government loan and €1.735 billion from the banks, allowing it to "make use of the existing financing options".
"At the same time, current forecasts show that KLM has sufficient financial resources available for the years ahead," it adds.
The airline also notes that a reduction in costs, which was a condition of the state loan, will remain in place for the entire KLM Group until such time as the loan and guarantee have been terminated.
KLM's outgoing chief executive Pieter Elbers says: "KLM colleagues battled their way through the coronavirus crisis in 2020 and 2021. The current operational situation at [Amsterdam] Schiphol is also demanding and again asks a great deal of our people and our customers. I'd like to sincerely thank everyone at KLM for their huge efforts."
KLM is battling operational challenges at Schiphol airport, its home base, which has capped the number of flights airlines can operate during July and August, amid a labour shortage.
Elbers says: "This last repayment is therefore also a welcome crowning result of everyone's efforts so far and serves as encouragement for the entire KLM workforce in facing these difficult times."
Incoming KLM chief executive Marjan Rintel says: "I'm pleased with this important step taken by KLM. Moving forward, I can and will build upon this to achieve even better financial health for KLM in the future."