Korean Air's proposed acquisition of rival Asiana Airlines could require the green light from regulators in at least four countries, adding to a growing list of hurdles which includes an ongoing legal battle to block the deal.
South Korea's Yonhap News Agency, citing unnamed sources, states in a 29 November report that the deal will need review from anti-trust authorities in the United States, European Union, China and Japan.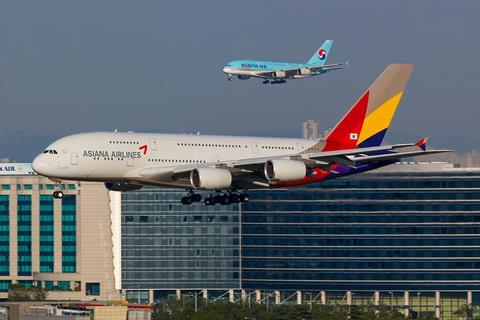 The sources also told Yonhap that the deal, valued at around W1.8 trillion ($1.63 billion), will first need to pass through the country's competition regulators.
On 16 November, the owner of Korean Air, Hanjin KAL, announced its intention to acquire embattled Asiana, to "stabilise the Korean aviation industry", which, like many others around the world, has acutely felt the impact of the coronavirus outbreak.
Under the deal, Korean Air will buy new shares issued by Asiana – valued at around W1.5 trillion – and purchase Asiana bonds worth around W300 billion.
Korean Air, for its part, will also raise capital through share issuances. State-owned Korea Development Bank (KDB) will invest W800 billion into Hanjin KAL, acquiring the newly issued Korean Air shares.
Since the announcement, the proposed deal, which ended months of speculation who might acquire Asiana, has met with a series of roadblocks.
Private equity fund Korea Corporate Governance Improvement (KCGI) has a vocal critic of the consolidation, even before Korean Air itself announced the deal.
KCGI, itself a Korean Air shareholder, filed an injunction in a Seoul district court to block the deal, arguing that the takeover will dilute existing shareholders' value.
The fund is part of a consortium that currently holds about 45% shareholding in Hanjin KAL. If the proposed deal — involving the KDB cash injection — moves forward, it will see its shareholding diluted to just over 40%.
According to Korean news reports, a verdict is expected soon, essentially determining the fate of the acquisition.