Korean Air estimates that "all aspects" of its acquisition of Asiana Airlines will be finalised by 2024, as the flag carrier has "readjusted" its timeline for international regulatory approvals.
Korean also refuted talk that the acquisition of its rival has been "delayed", noting that while timeline readjustments have had to be made, there are "no outstanding issues" in the impending merger.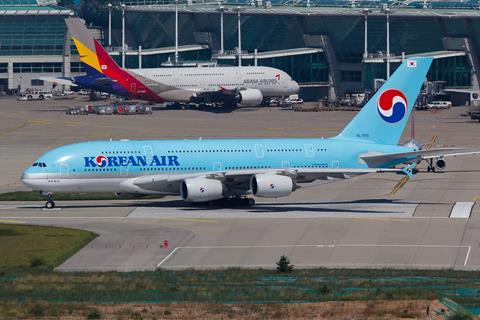 A 29 March report by The Korea Times states that Korean has delayed the acquisition, quoting sources as saying that it anticipates "obstacles" such as getting regulatory approvals, as well as challenges integrating the carriers' low-cost units.
The report goes on to state that the delay comes as Korean "struggles to obtain approval from eight antitrust authorities" in countries such as China, the United States, as well as Thailand.
So far, only Turkey has given the regulatory green light for the merger, after it submitted documentation in January. At least four countries, including South Korea, need to approve the merger for it to go through.
Responding to FlightGlobal's request for comment, Korean says: "The acquisition can be finalised upon the merger approval from relevant countries, and we readjusted our timeline just in case some countries require more time to review and approve."
While it did not elaborate what readjustments had to be made, the carrier adds: "Korean Air has no outstanding issues with the acquisition and, so far, the integration is going as we expected. The post-merger plan has been submitted to the Korea Development Bank (KDB), and we secured enough liquidity to finalise the acquisition through raising the necessary capital."
Korean submitted its integration plans on 17 March, the latest milestone in its ambitious journey to acquire Asiana.
The carrier recently told FlightGlobal then that it tentatively believes that its acquisition of rival Asiana Airlines will close by the end of June, but that it was subject to regulatory approval.
"We assume the deal will be finalised by the end of June this year, but the exact timing will be confirmed after completion of regulators' approval on the acquisition from relevant countries," it said.
In November 2020, Korean and parent Hanjin KAL announced a W1.8 trillion ($1.59 billion) takeover bid for Asiana, saying that the move was necessary to "stabilise the Korean aviation industry," which has been hard hit by the coronavirus pandemic.
In December 2020, Korean outlined its plans, with full-service Asiana to be merged with Korean, and the Korean Air brand retained. In addition, low cost units Jin Air, Air Busan, and Air Seoul will be merged. Jin Air is a unit of Korean, while Air Busan and Air Seoul are units of Asiana.