Korean Air has gained approval from shareholders to amend its articles of association to help finance its planned acquisition of compatriot Asiana Airlines, moving the carrier a step closer to taking over its rival.
At an extraordinary meeting on 6 January, the majority of Korean Air shareholders voted in support of the proposed amendment, which raises the upper limit of its shares to 700 million, from the current limit of 250 million.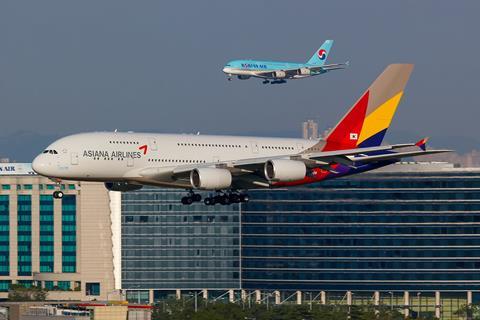 The increase will allow the carrier to conduct a W2.5 trillion ($2.3 billion) rights issue in March, which is part of plans to fund the Asiana acquisition, which is valued at around W1.8 billion.
The amendment is the latest in a series of regulatory and legal hurdles Korean Air has overcome to complete its acquisition of Asiana.
In December, a Seoul district court quashed an attempt – sought by private equity fund and Korean Air shareholder Korea Corporate Governance Improvement (KCGI) – to block the takeover bid.
The deal also reportedly faced scrutiny from competition watchdogs both in Korea and in major markets such as the United States and the European Union.
In its latest statement following the shareholders' meeting, Korean Air says it intends to submit documentation to foreign and domestic anti-trust authorities by mid-January to review the deal.
Work surrounding due diligence on Asiana, which began in December, is also ongoing, the carrier adds.
By 17 March, Korean Air will unveil an "integration plan" relating to the acquisition.