Korean Air has cleared another milestone in its acquisition of Asiana Airlines, with state-backed Korea Development Bank (KDB) approving the carriers' integration plan
The approval comes about three months after the carrier's submission of its post-merger plan to KDB.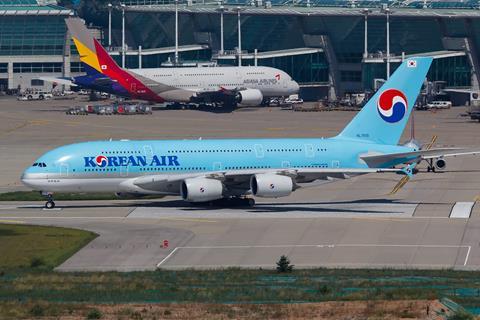 The SkyTeam carrier says the next step in the merger — which it aims to complete by 2024 — will be to await necessary regulatory approvals. So far, Turkey, The Philippines and Thailand have given the green light for the acquisition.
Korean Air is also awaiting approval from regulatory bodies in South Korea, the USA, the European Union, China and Japan.
"Due to complicated issues involving legal, financial, and tax risks, the actual implementation will reflect various market regulations and conditions," the carrier adds.
Korean Air confirms that both full-service brands will be merged under one brand, while its low-cost affiliates — comprising Korean Air-linked Jin Air, as well as Asiana units Air Busan and Air Seoul — will also be combined.
Making the case for the merger, Korean Air states: "The integrated [full-service carrier] and [low-cost carrier] are expected to improve efficiency by achieving economies of scale, and will act as an opportunity for the growth of relevant contractors, partners and other companies in the aviation industry."
Other elements of the merger plan, which has not been released publicly, include plans to "effectively reorganise relevant subsidiaries", which are understood to include the carriers' IT, as well as operations departments.
Under 'risk management', Korean Air states two key points: future market expansion, as well as alliance, MRO and mileage programme integration.
Stressing that it will carry out the merger "properly", Korean Air states: "The newly integrated global airline will increase the operational efficiency of overlapping passenger and cargo routes, while diversifying its schedules and expanding opportunities for new routes, which will increase customer benefits and create integrated synergy by reducing costs."
Korean Air first announced plans to acquire its compatriot and rival Asiana in November 2020, after acknowledging the devastating impact the coronavirus outbreak has wrought on the airline industry.