Korean Air is resuming several routes to China and Japan, as its international passenger capacity returns to 82% of pre-pandemic levels.
Korean will re-start flights to the Chinese cities of Changsha, Wuhan, and Weihai, as well as the Japanese cities of Fukuoka and Nagoya. This marks the first time the carrier has served the five destinations in over three years.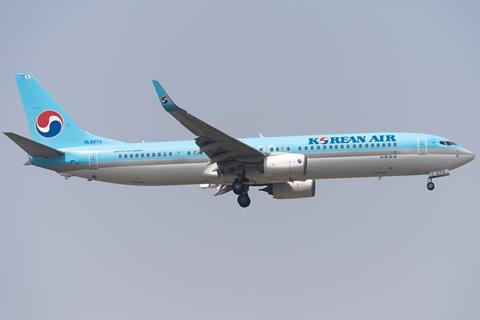 Seoul Incheon-Changsha will operate five times weekly from 19 July. Services to Wuhan will recommence on 24 September, and to Weihai on 27 September.
As for Japan, Korean will start twice-daily Busan-Fukuoka and daily Busan-Nagoya services on 27 September.
The new routes will be operated with Boeing 737-900ERs.
The carrier adds that the Busan flights are aimed at supporting South Korea's push to hold the World Expo 2030 in Busan.
"Korean Air is also expanding its international flight operations to meet rising international travel demand through flight frequency increases," it says.
"Starting from July, the airline has increased frequencies and reinstated flights on its extensive global network. As of July 2023, [ASKs] reached approximately 82% of pre-pandemic levels in 2019, indicating a significant recovery in capacity."
The carrier has also worked to increase frequencies to North America, Europe, and Mongolia.