Korean Air boosted its overall revenue in the second quarter of this year but saw its operating profit fall, as the strong recovery of passenger demand was offset by higher costs and a significantly weaker freight market.
Outlining "tentative" results for the April-June period on 2 August, the SkyTeam carrier describes its operating profit of W468 billion ($361 million) as "moderate", having reported a W736 billion profit in the year-ago period. It cites "rising operation costs and airport fees" as being among the reasons for the declining profit.
Its tentative net profit of W372 billion was down from W450 billion a year earlier. That was achieved on overall revenue some 6% higher year on year, at W3.5 trillion, which was outpaced by an 18% rise in operating expenses.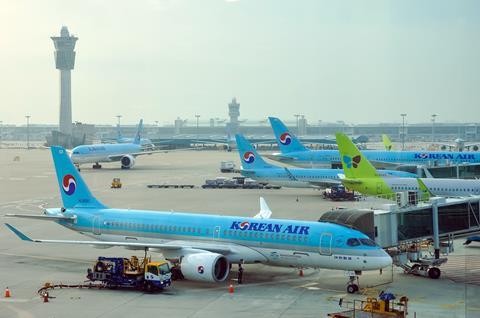 Within that second-quarter revenue, Korean Air passenger income rose by more than 2.5 times to W2.2 trillion from around W874 billion a year earlier, as it benefited from the removal of Covid-related travel restrictions in key markets.
Cargo revenue more than halved year on year, however, to W964 billion from W2.17 trillion in 2022.
"The business has been affected by a decline in air freight demand due to increased passenger belly cargo capacity following the strong rebound of passenger operations, as well as a drop in cargo rates," Korean Air states.
Passenger revenue is further improving in the seasonally strong third quarter of the year, Korean Air says, as demand continues to recover from the pandemic. But it also cites a declining freight outlook amid weakening rates and demand, exacerbated by the global economic slowdown.
Korean Air was a rare example of an airline that maintained profitability during much of the pandemic, as it benefited from high demand for air cargo while capacity was constrained, offsetting a huge fall in passenger revenue.
The airline ended the second quarter with 156 aircraft in its fleet, versus 155 a year earlier.