Korean Air will prepare an "integration plan" by March relating to its acquisition of embattled rival Asiana Airlines, as it vows not to cut any jobs following the consolidation of the two carriers.
Korean Air president Woo Kee-hong, speaking at a virtual press briefing on 2 December, states that the next three months will be spent conducting due diligence "intensively" on Asiana.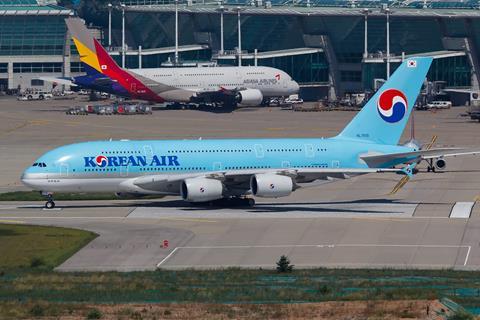 "In particular, [we] aim to understand the overall situation of Asiana, such as cost structure and contract relations [including those relating to aircraft]," Woo says.
The integration plan, to be unveiled by 17 March, 2021, will also see both carriers' low-cost units — Jin Air, Air Busan and Air Seoul — merged into a single entity.
Woo's comments come a day after a Seoul district court quashed an injunction sought by Korean Air shareholder and private equity fund Korea Corporate Governance Improvement (KCGI) to block the proposed acquisition.
Korean Air on 16 November announced its intention to take over its rival, in order to ""stabilise the Korean aviation industry", which has been impacted by the coronavirus outbreak.
Asked at the briefing about any potential job cuts arising from the integration — a concern raised by the unions — Woo says Korean Air has "no plans to reduce supply".
Still, he notes that there will be natural manpower attrition — through resignations and retirements — which is expected to amount to around 1,000 staff. Therefore, Woo adds, the overlapping manpower between both carriers will not be very significant.
He also stressed that there will be no "artificial restructuring" at either carrier, despite the downturn caused by the pandemic.
Shedding more light on how the integrated carrier — said to be among the world's top 10 carriers in size — will look, Woo says it was likely "a single, existing brand", most likely to be Korean Air, would be kept, as opposed to creating a new brand.
Woo says it was not prudent to be start a new brand now, given the dire straits in the industry, but did not rule out a possible rebranding in the future.
As for the proposed low-cost unit, Woo states that it would be operated and managed separate from its parent company.
There were synergies from both Korean Air and Asiana's low-cost units, such as flight schedules and network, that can be tapped, Woo adds.
The new low-cost arm also looks to operate on a dual-hub model, based at both Seoul Incheon airport, as well as at Busan, where Air Busan operates from. Woo told reporters: "We will develop Incheon and Busan well [at the same time], in a balanced way."