The European Commission (EC) has taken a preliminary view in opposition to the merger of Korean Air and Asiana Airlines, citing the potential reduction in competition between South Korea and the European Economic Area and Europe.
The EC opened an "in-depth investigation" into the proposed merger in February, it says.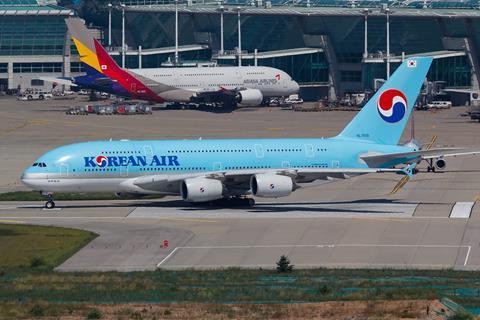 The investigation looked at internal documents provided by Korean and Asiana and gathered the views of competing airlines and customers.
It is "concerned" that the deal will reduce competition on passenger routes between South Korea and France, Germany, Italy, and Spain. It also feels that the merger will hurt competition on cargo routes.
"Korean Air and Asiana compete head-to-head in carrying passengers and cargo between the [European Economic Area] and South Korea," it says.
"Together, they would be by far the largest carriers of passengers and cargo on these routes and the merger may remove an important alternative for customers. Other competitors face regulatory and other barriers to expanding their services and may be unlikely to exert sufficient competitive pressure on the merged entity."
Korean Air, for its part, says it will address the issue with the EC: ""The issuance of [a statement of objections] is a common practice in a Phase 2 merger review, and Korean Air is cooperating closely with the EC to address all potential concerns. Korean Air is confident that the proposed merger will benefit our customers in the market, and will make every possible effort to secure the final approval of the merger."
The EC adds that it has until 3 August to make a final decision.
In a January note to staff, Korean Air chief executive Walter Cho said that he hopes to complete the Asiana merger – first announced in 2020 – in 2023.
In March, Korean Air secured UK competition approval for the proposed merger from the UK, based on its supporting Virgin Atantic's access to the London-Seoul route.
At the time of the UK approval, Korean said that it will continue to co-operate fully with European Union, US and Japanese regulators to secure remaining competition clearance. Eleven authorities – including the UK's – have so far approved the tie-up.