The Korea Fair Trade Commission (KFTC) reportedly aims to complete its review of Korean Air's takeover of rival Asiana by the end of 2021.
According to state news agency Yonhap, the KFTC told the country's National Assembly that it will work to speed up approval to the deal, given the merger's impact on the South Korean economy.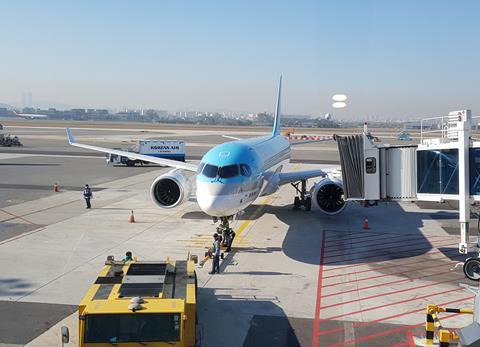 Announced in November 2020, the W1.8 trillion ($1.5 billion) deal would see the Korean air travel market transformed, placing Korean among the world's top 10 carries by size.
Local approval is critical for the merger. So far, countries that have approved the deal are Malaysia, Taiwan, Thailand, and Turkey.
If approved, the deal will create a powerful airline with a strong position at Seoul Incheon.
Still, Korean chief executive Walter Cho is clear-eyed about the challenges the merger poses.
In an August 2021 interview with FlightGlobal, Cho had this to say about the plan: "The integration process will be complicated…after the approval, Asiana will become a subsidiary of Korean Air. Both airlines will work closely to integrate all the operational areas – including processes and systems – to create synergy."
He noted that the airlines have been rivals for decades and have "very different cultures."
Separately, Airbus named Korean Air as the "best operator of the A220" narrowbody at the recent IAGA AGM in Boston.
It noted that Korean Air's A220 operation enjoyed on-time performance of 99.63% for its A220 fleet, compared with the A220 fleet's global average of 99%.
"An on-time performance of 99.63% indicates that there were only 3.7 delays or cancellations caused by maintenance defects for every 1,000 flights," says Airbus.
"A high on-time performance rate also signifies that an airline is committed to preventive maintenance measures and safety management, providing high levels of safety and passenger service."