Indonesian lawmakers voiced opposition to the bankruptcy or liquidation of embattled flag carrier Garuda Indonesia in a parliamentary hearing on 21 June, as the airline's executives revealed further details on its downsizing of operations.
Indonesia's House of Representatives member Nyat Kadir comments that the "bankruptcy or liquidation options were not the right choice for Garuda Indonesia".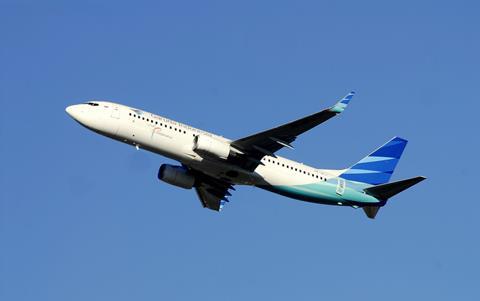 Another House of Representatives member, Rafli, adds that Garuda's financial problems "must be resolved immediately so that the state-owned company does not go bankrupt".
"[W]e must know that Garuda's losses are not only during the pandemic. Today it can no longer be contained, the swelling (debt) is extraordinary," he says.
Garuda's current debt of Rp70 trillion ($4.9 billion) is forecast to continue increasing by Rp1 trillion each month amid the pandemic, with the "biggest burden" coming from lease payments, according to Rafli.
During the hearing, Garuda's deputy chief executive Dony Oskaria explained that due to current market demand, the airline is flying only 41 aircraft and intends to return the remaining 101 aircraft.
According to him, Garuda currently generates a revenue of $6-7 million per month, which is sufficient to maintain a fleet of 41 aircraft and cover operating expenses.
He blames Garuda's current losses on payments for aircraft leases, saying that "our losses are actually purely because of earlier leased aircraft that are underutilised assets".
Thus far, he says that Garuda has returned 20 aircraft to lessors and has been negotiating to return a further seven.
"It is our hope that the aircraft will be returned soon," he continues, adding that the airline is seeking early termination of leases, lease holidays or pay-by-hour leases.
The airline has renegotiated with lessors to reduce lease prices by about 30% across the board, he says, and currently pays $1.5 million per month in leases.
According to Cirium fleets data, Garuda Indonesia currently has 66 aircraft in service – with Boeing 737-800s comprising nearly half – and a further 76 units in storage.
Giving an overview of the airline's current operations, chief executive Irfan Setiaputra states that "it is impossible for [Garuda] to be profitable in the future based on existing conditions."
As such it intends to stop its Melbourne, Perth and Osaka services in July, while reviewing routes from Jakarta to Amsterdam, Kuala Lumpur and Sydney, as well as reducing flight frequencies on its Singapore route and monitoring its Seoul service.
Garuda is currently putting together several rescue options.
It comes as Garuda defaulted payment on its $500 million sukuk, which was due on 17 June following the expiry of a two-week grace period.
The following day, the Indonesia stock exchange suspended trading on Garuda's shares until further notice.