Air France-KLM may take legal action over the Dutch government's recent decision to permanently cap the number of flights from Amsterdam Schiphol airport.
KLM warned in late June of "dramatic consequences" for its hub operations after the government moved to permanently cut the annual flight limit from the airport by 12% amid concerns about noise pollution and other environmental issues.
Speaking during an earnings call on 29 July, Air France-KLM chief executive Ben Smith said the group was keeping its options open regarding its response.
"We've had a request by Schiphol airport to reduce capacity and we are having an ongoing debate and dispute, and potentially lawsuit, about whether we will have to permanently reduce capacity," Smith states.
"We are going to fight this as best we can to ensure it will not have a negative impact on our activities."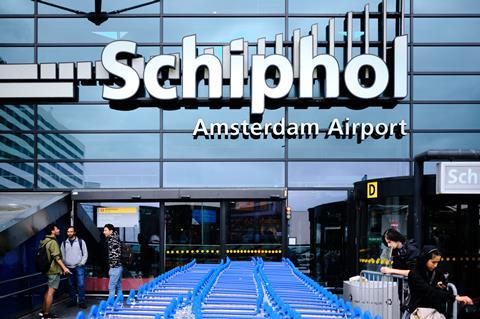 Speaking on the same call, recently appointed KLM chief executive Marjan Rintel notes that "it took us by surprise" when the Dutch government announced the cap.
"We were not included when these plans were made," she states.
Acknowledging that KLM takes "climate and the inconvenience for local residents into account", Rintel says the carrier is nevertheless "mapping out what the consequences are for KLM and Schiphol".
The Dutch operator expects to have its "first review" ready in September, she says, "and then we will discuss this with the minister for infrastructure".
The government announced on 24 June that from late November, Schiphol would be permitted to handle a maximum of 440,000 flights per year instead of the 500,000 currently allowed.
The government insisted that Schiphol could "maintain its international network of destinations" with the cap in place.
The cap under discussion is unrelated to any capacity limits put in place to deal with current operational disruption at Schiphol.