While noting a strong traffic and profitability recovery among airlines, lessor BOC Aviation expects supply chain challenges to continue slowing aircraft deliveries.
In half-year call with investors, BOC Aviation chief financial officer Steven Townend said that conditions continue to improve at the lessor's airline customers, driven by a growing passenger business and rising ticket prices.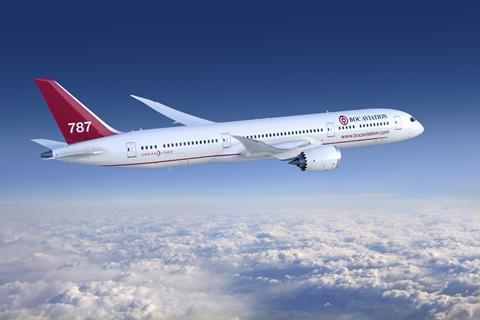 Moreover, headwinds have eased somewhat in the first six months of 2023, chiefly the cost of fuel. High interest rates, however, increase costs for airlines and BOC Aviation itself, although these are offset by improving revenues.
"While rebounding more slowly than originally anticipated, growth in China's outbound passenger flows should sustain the Asia-Pacific market's impetus over the balance of this year and into 2024," says Townend.
"The number of domestic flights now exceed 2019 levels, while international and regional flight numbers were at 53% of those as at end-July – up from less than 10% at the beginning of the year.
"We expect this renewed activity to be reflected in Chinese airlines' aircraft orders and their demand for leased aircraft, especially following the expansion of permissible countries to which Chinese can travel from 60 to 138, announced last week."
But BOC Aviation chief operating officer Tom Chandler warns that aircraft delivery delays continue to be an issue: the lessor saw deliveries of twelve aircraft originally scheduled for the first six months of 2023 pushed back to the second half.
Of those aircraft delivered in the first half a "significant number" only arrived in June, he says.
"We believe that supply chain and labour issues will continue to impact our OEM partners at least for the remainder of this year and may take another one or two years to recover but once the delays have stabilised then the net effect will abate," says Chandler.
In the first half, the lessor swung to a net profit of $262 million, compared with a net loss of $313 million a year earlier. Revenues for the six months were $1.1 billion, down 8.3% from a year earlier.
BOC Aviation owns 404 aircraft, manages 35, and has 213 on order.