Lessor China Aircraft Leasing (CALC) has cut its orders for the Boeing 737 Max to 66 aircraft from 92 previously.
In addition to cutting 26 orders for the Max, it will also "reschedule the delivery of certain aircraft," says the company in a stock exchange statement.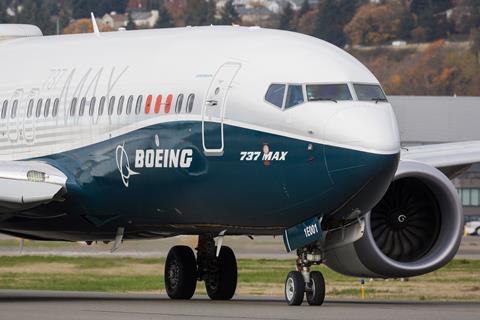 "The new arrangement is more in line with the Company's interests, and the demand of aviation market," says CALC.
"It also reflects its long-term partnership with the aircraft manufacturers."
CALC originally started ordering the 737 Max with an order for 50 examples in mid-June 2017, which was followed by subsequent top-ups pushing orders to 92.
CALC adds that it owns a fleet of 103 aircraft and manages 25.
The Civil Aviation Authority of China (CAAC) has yet to clear the 737 Max for a return to service on the Mainland, although other jurisdictions, including the USA and Europe, have cleared the type's return to service after modifications by Boeing to improve the jet's safety.
The agency was the first in the world to ground the type following fatal the crash of a Lion Air 737 Max 8 in 2018 and an Ethiopian Airlines crash in 2019 that claimed the lives of 346 people.