India's Directorate General of Civil Aviation (DGCA) has received applications from lessors to de-register grounded low-cost carrier Go First's entire fleet of 54 aircraft.
Disclosing the figure in a written parliamentary reply issued 24 July, India minister of state for civil aviation V K Singh adds that the applications are pending legal proceedings.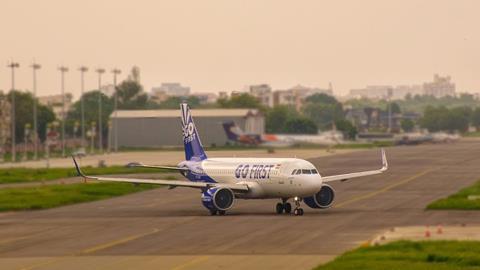 The figure is higher than previously-suggested numbers around 40 aircraft. According to Cirium fleets data, the airline had 54 aircraft in operation, comprising 49 Airbus A320neos and five A320ceos. If the lessors' de-registration efforts are successful, they will add to nearly 400 aircraft that have been de-registered in India over the last five years, according to DGCA data.
The disclosure comes amid reports that the Indian government has approved the airline's resumption plan, but with several caveats including securing "required interim funding".
The DGCA must also approve its flight schedules for resumption, and the airline needs to prove its airworthiness compliance, and no aircraft can be deployed for operations without a "satisfactory handing flight."
In his parliamentary reply, Singh confirms that a resumption plan has been submitted, but did not indicate a timeline. Instead, the minister says the airline had submitted to operate 150 fights a day with a fleet of 26 aircraft, less than half its fleet size pre-grounding.
The DGCA is "closely monitoring" developments, Singh adds. "In the wake of suspension of operations by Go First, airlines have been advised to self regulate the air fares and maintain reasonable price levels and also to introduce new flights on the sectors that had substantial number of Go First flights," he says.
Go First abruptly grounded flights on 2 May, as mounting financial challenges prompted it to seek bankruptcy protection. The airline – which has extended its grounding several times – also laid the blame for its challenges on the reliability of the Pratt & Whitney PW1100G engines powering its Airbus A320neos.