News that HNA Group creditors will seek to put the conglomerate into bankruptcy and reorganise it did not come as a surprise to some lessors, who had been anticipating such an announcement around the Chinese New Year.
"It's no surprise, really, although most people were half-hoping for a government bailout," one lessor with exposure told Cirium hours after the story broke on 29 January.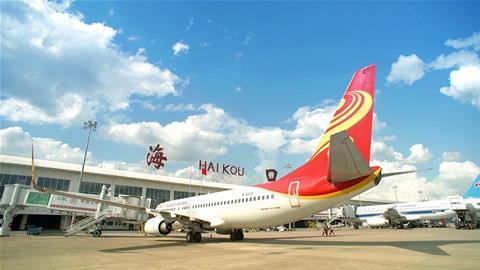 Lessors, who are already swamped with multiple airline restructurings in Asia-Pacific, may now have yet another bankruptcy to deal with, this time one which would impact about a dozen airlines.
HNA's group airlines include Hainan Airlines, Beijing Capital Airlines, Tianjin Airlines, Hong Kong Airlines, Suparna Airlines, Air Changan, Grand China Air, Fuzhou Airlines, GX Airlines, Lucky Air, Urumqi Air and West Air. Nearly 40 lessors have exposure to these airlines.
A second lessor with exposure to HNA Group's airlines says his company has contacted his lessees via WeChat, the popular Chinese instant-messaging app, but that his company is still trying to gather more information. Face-to-face meetings in Haikou are likely to come later, although travel restrictions and quarantine requirements make them more difficult than usual.
"Based on what we understand, [airline] operations are continuing as normal. I don't think any of the [Chinese] authorities would want this to go down as a disruptive process," he says.
Cirium data has shown a slump in domestic traffic as the Lunar New Year approaches, but this lessor believes that could rebound and therefore HNA's airlines will continue to need most of the aircraft they currently lease, particularly their narrowbodies.
"For now, potentially we are looking at a haircut in the [lease] arrears, but I don't think it will be a massive restructuring like we've seen with [for example] Virgin Australia. For now, we are still trying to gather information."
While several big-name Western lessors have tens of aircraft each on lease to HNA-affiliated carriers, it is Chinese lessors which have the greatest concentration risk, Cirium fleets data shows.
LESSOR CONCENTRATION RISK
Several Chinese lessors have a relatively high exposure to carriers affiliated with HNA Group.
Shanghai-based Bocomm Leasing, the world's 11th biggest lessor by portfolio value according to Cirium's Portfolio Tracker: Q4 2020, has nearly a fifth of its fleet on lease to HNA-affiliated airlines.
This includes three Airbus A319s with Capital Airlines, 23 Boeing 737-800s and two 787-9s with Hainan Airlines, three 737-300s with Suparna Airlines, six A320s and five Embraer 195s with Tianjin Airlines, and two 737-800s with Urumqi Air. These represent 44 aircraft out of Bocomm Leasing's 264-strong fleet.
Smaller, domestic-focused lessor China Everbright Financial Leasing meanwhile has about a third of its portfolio on lease to HNA's airlines. It leases three 737-800s to Air Changan, seven 737-800s to Hainan Airlines and three 737-800s to Urumqi Air, out of a total portfolio of 37 aircraft. All of its other lessees are also Chinese.
Conversely, Beijing-based ICBC Leasing stands out as having a tiny concentration of HNA lessees relative to its peers. The Beijing-based lessor's HNA concentration accounts for less than 1% of its overall portfolio of 477 aircraft. It leases just one E190 to GX Airlines, one 737-800 and one A330-300 to Lucky Air, and one E190 to Tianjin Airlines, out of a total fleet of nearly 480 aircraft.
Among international lessors, some which have large numbers of aircraft exposed to HNA Group nonetheless have their concentration risk reduced by the vast overall size of their portfolios.
The world's biggest lessor by fleet value, AerCap, has 18 aircraft on lease to HNA-affiliated carriers, but this represents less than 2% of its overall fleet.
GECAS has more than 40 aircraft exposed to HNA, although this represents only about 4% of its total fleet, given its more-than-1,000-strong fleet and geographical diversification.
Avolon, in which HNA affiliate Bohai Leasing owns a majority stake, has a similar number of aircraft on lease to HNA as GECAS, but Avolon's portfolio concentration with HNA is about twice as high at nearly 8%.
Several other major lessors have insignificant exposure to the group. Air Lease, BBAM, Carlyle Aviation Partners, Macquarie AirFinance and Nordic Aviation Capital all have less than 1% of their portfolios exposed.
It is too early to know what impact bankruptcy and restructuring would have on HNA's group airlines. Those that had been having greater difficulties before Covid-19, such as Hong Kong-based Hong Kong Airlines, will be watched more closely by lessors and market analysts.
At least one lessor with exposure there has already contacted Hong Kong Airlines following HNA Group's announcement, out of concern for the future of the carrier.
In an interview with Bloomberg TV published on 29 January before news of HNA Group's predicament was announced, Hong Kong Airlines' director for service delivery Chris Birt said his airline had entered the pandemic "in a stronger position than we were previously". The airline, he added, has managed to cover its operating costs with increased cargo business despite a roughly 90% decline in passenger numbers compared with 2019.
It is operating around nine to 10 aircraft on a mix of passenger and cargo flights, with the remainder of its 32-strong fleet either undergoing maintenance or "long- to medium-term parking", and plans to "gradually" return aircraft into the fleet as demand increases.
Contacted by Cirium on 1 February, Hong Kong Airlines says: "We are aware that recent activities involving our shareholders may have resulted in some public interest. As a private company, Hong Kong Airlines does not comment on our financial activities publicly nor engage in market speculations. We are operating as normal and will continue to focus on delivering our best service to all customers."
PRE-PANDEMIC PROBLEMS
HNA Group's airlines have been experiencing financial difficulties since as far back as 2017. Unlike in the Covid-19 era when most airlines are struggling to pay rentals and requesting deferrals, this was at the time considered big news and signalled to lessors that the carriers' parent's financial problems were filtering downward.
Market sources suggested at the time that it was less a question of the carriers' business models being at fault than of the group's tendency to siphon cash from them to support other parts of the conglomerate, leaving them without enough money to meet monthly rental payments.
A 1 February Reuters report cited Chinese aviation expert Li Xiaojin as saying Hainan Airlines "should be fine" and would continue to operate, although there may be a change of ownership.
A third lessor with exposure to the group tells Cirium his company can only wait for a solution from the group and the Chinese government, and until then there is little else it can do.
The second lessor adds that lessors' response to the news of 29 January may partly depend on whether they are getting paid by the group's airlines. His lessor has received partial payments from HNA Group in recent months, including for January, although he has heard that others have not.
"HNA is still massively behind [on lease rental payments], but there was some money that came earlier this month," he says.
"For those of us who received money, we are possibly going to wait for a bit, but those who haven't received anything for a long time may want to send someone [to Haikou]."
This analysis is written by Michael Allen, part of Cirium's Asia-based reporting team.