Lufthansa expects to bring back more A380s than the three it has already earmarked for its Munich base from June 2023.
"That's just the beginning," said Lufthansa Group chief executive Carsten Spohr during a third-quarter earnings briefing on 27 October.
"We'll need to bring that number up [based on] the demand [trend] and for operational reasons three is not enough… so we are currently working on a detailed plan for that."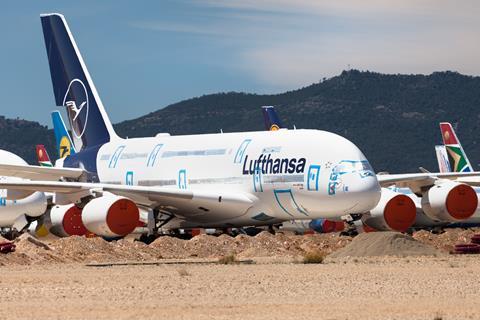 The move comes with Lufthansa Group expecting buoyant air travel demand to continue into 2023. Booking strength is holding firm in the current quarter, it says, despite a list of economic and geopolitical headwinds.
Spohr further explains that aircraft delivery delays are combining with other factors to constrain capacity looking into 2023 and beyond – another factor in favour of the A380's return.
Lufthansa's 14 A380s were placed into storage early in the pandemic, with the carrier suggesting they would not return to service unless the post-Covid demand recovery was much stronger than expected.
It then signalled the return of some A380s earlier this year, but had not provided details on the number of aircraft involved.
Some eight A380s remain under Lufthansa's ownership following the sale of six examples.
Lufthansa is among the customers for Boeing's delayed 777-9 twinjet and expects to add dozens of new widebody aircraft to its fleet in the coming years, also including 787s and A350s.