Lufthansa has reached agreement to acquire a minority stake in ITA Airways under a plan which envisages the Italian carrier boosting revenues from €2.5 billion ($2.7 billion) this year to €4.1 billion in 2027.
Carsten Spohr, chief executive of the German airline group, signed the acquisition agreement in Rome today with Italian finance minister Giancarlo Giorgetti. No details of the stake Lufthansa is taking, previously reported by Italian media to be 40%, nor the purchase price were disclosed in an Italian finance ministry statement announcing the deal.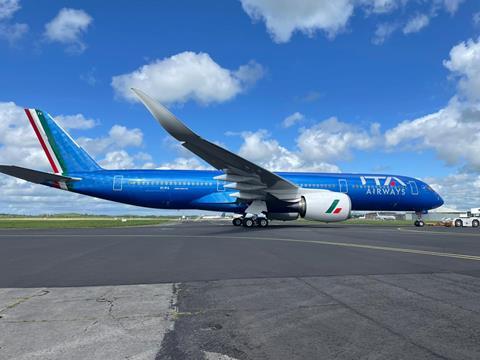 Spohr describes the agreement as a "win-win situation" for Italy, ITA Airways and Lufthansa Group. "This is good news for Italian consumers and for Europe, because a stronger ITA will strengthen competition in the Italian market. As a young company with a modern fleet and with its own growing and efficient hub in Rome, ITA is the perfect fit for the Lufthansa Group," he says.
"In Milan, ITA covers a large catchment area that also offers growth potential. As part of the Lufthansa Group family, ITA can develop into a sustainable and profitable airline, connecting Italy with Europe and the world. At the same time, this investment will enable us to continue our growth in one of our most important markets."
The agreement will now be submitted to European Commission regulators for scrutiny.
Under the shared business plan ITA will increase it fleet from 71 today to 94 aircraft by the end of 2027. It also envisages the recruitment of 1,200 more staff at ITA to reach 5,500 by the end of 2027.
Giorgetti says: "Today the journey that has marked the history of the national flag carrier ends with the prospect of integration with an important European carrier. With this government, a knot that has been conditioning the air transport market in Italy for 30 years is now untied. We are convinced that this decision will allow the air market to develop in Italy's interest".