Lufthansa mainline and cargo pilots represented by the Vereinigung Cockpit (VC) union have backed a new collective labour deal which will cover pay terms until at least the end of 2026.
The German carrier had faced strike disruption last September from pilots at Lufthansa mainline and Lufthansa Cargo before brokering a short-term labour deal. One week ago, the airline revealed it had agreed a new long-term pay and conditions deal with VC, which the union was putting to its membership for approval.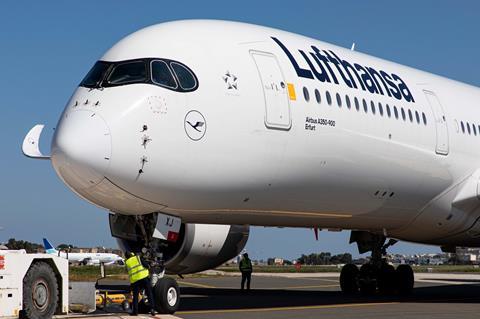 Lufthansa today said pilots have now backed a collective pay deal which will remain in force until December 2026 and a terms of service deal which runs until at least December 2027.
Under the agreement, which covers around 5,200 staff, pilots will receive a 7% pay rise from December, and subsequent 5% pay rises at the start of 2025 and 2026. It also includes a one-off payment of 3.75% of fixed annual compensation of up to €3,000 ($3,292) for this year.
The carrier says the agreement also makes its easier to plan leisure time and adds roster stability for pilots, as well as allowing for the integration of pilots from its former Germanwings unit into Lufthansa.
Lufthansa Group executive board member and labour director Michael Niggemann says: "This new agreement is not easy for us to conclude from an economic perspective.
"But its long-term nature provides Lufthansa Airline with a sound planning foundation for the years ahead, particularly for its intended long-haul growth. The fact that the new agreement was found amicably around the negotiating table strengthens our social partnership, too."