Lufthansa is restructuring its in-house flight school programme to facilitate a "more needs-based" pilot supply for the group's different operators.
The airline group says it intends to "use the interruption caused by the crisis to fundamentally modernise the existing training concept" for ab initio pilot students at its flight schools.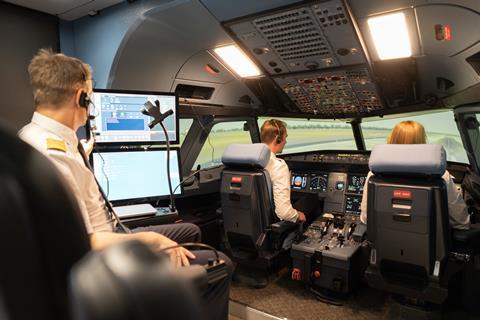 Lufthansa will introduce what it terms a "campus model framework". This will continue to facilitate ab initio training, which, the airline says, "has been proven successful for decades". But it adds the new model will more digital training methods and provide "new selection processes".
"These will enable more needs-based training for the various airlines of the Lufthansa Group and take into account the volatile demand in air traffic."
Lufthansa Aviation Training tells Cirium that the "central element" of the new system will be a two-stage assessment process – first to be enrolled in the training programme, and second, after qualification, to secure a job at one of the group's operators.
Prior to crisis, students were recruited via a single assessment test prior to the training, and successful candidates could count on jobs within the airline group. Lufthansa financed a large proportion of training costs, which students later repaid in instalments during employment.
How the training will be financed in future has yet to be determined, LAT says.
Lufthansa likens the new structure to a university study programme "with defined qualification and training standards resulting in an institutionalised, internationally recognisable degree".
Students will complete their training with an airline transport pilot licence under the new structure rather than a Lufthansa-specific multi-pilot licence as in the past.
Graduates will be recruited "depending on the demand situation of the respective flight operations of the various airlines" within the group, Lufthansa says.
It adds that the new model will give "the current generation student of pilots another perspective on a possible entry into cockpits at Lufthansa Group airlines later on".
In 2020, the pandemic prompted LAT to suspend cadet pilot training at its European Flight Academy arm, which spans several sites and trains pilots for the group and third-party customers.
Students for the group's own flight-training programme, which takes about two years to complete, were advised by LAT to seek other careers, as the company foresaw no demand for new pilots "for a very long time".
In January, Vereinigung Cockpit said that more than 100 students in Lufthansa's in-house training programme had launched legal action against LAT in a bid to complete their training at the company's pilot school rather than third-party flight academies.
As part of the restructuring, LAT will concentrate practical flight training at its facility at Rostock airport. Theoretical training, meanwhile, will be consolidated at Lufthansa's traditional flight academy in Bremen.
In the past, Lufthansa conducted part of the initial practical training at a company-owned campus in outside Phoenix in Arizona. More advanced training took part in Bremen.
Training in Phoenix has been "paused" for the time being, says LAT. No decision has been made about the training facilities and aircraft fleet there, the company adds.
Lufthansa Group chief operations officer Detlef Kayser acknowledges that the group's previous pilot training programme "enabled us to set the highest and globally recognised quality standards in the selection and training for our cockpit crews… over the past decades".
He states that the group will maintain quality standards, but adds: "We now want to modernise this proven concept, make it more efficient and reliable, and enter a new age with digital modules."